Free Certificate Maker

Most of the printable certificates on this site can be fully customized. You can also use our free certificate maker to make customized certificates with your own photos, logos and text.
 The following award certificates can be customized:
Certificate of Appreciation Template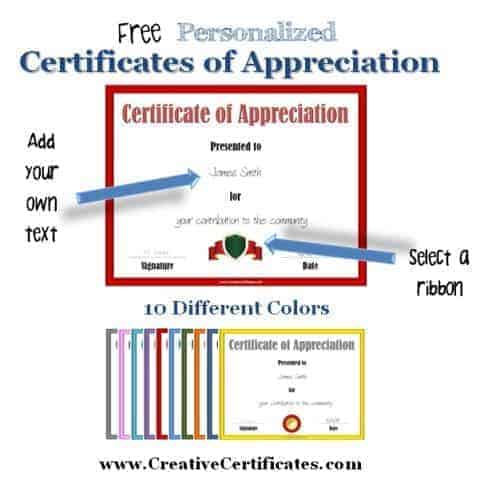 How to Customize Award Certificates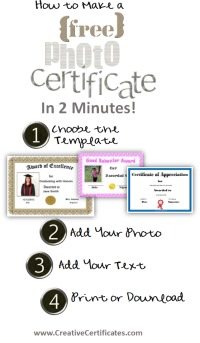 Choose the award certificate that you want to make from the list above. We offer many different certificate templates for various achievements. You can also click on "customize" on any other certificate on this site.
Type the text that you want to appear on your award certificate.
If the certificate template shows an image then upload an image or logo from your computer. You can add images of ribbons, logos or even photos. If you are awarding children add their photo or even a photo of someone they admire or look up to. It can be their favorite actor, pop star or even a photo of their pet. Even if the certificate does not have an image and you want to add one then just click on the image icon to add the image and drag it to wherever you would like it to appear.
Once you have created the certificate you can save it or print it. Print the certificate on stationery, parchment paper or card stock. You can buy these online or at office supply stores.
Sign the certificate or stamp it with your school logo or company's logo / stamp (if you didn't add a signature or logo online).
Frame the award certificate. Although this step is optional it makes award certificates look far more impressive.
If you don't have 2 – 3 minutes to personalize your certificate online then you can just print it and fill in the details in your own handwriting. If you need an official looking certificate then we suggest that you take a few minutes to to type in the details before you print it for a more professional look.
Please contact us if you have any problems with our certificate maker