Award Certificates with Curious George
The following certificate templates can be used for various achievements or reasons. Each one can be adapted to your needs. Scroll down to find the most appropriate one, print and then fill in the child's details.
Certificate Template
Good behavior award with Curious George
A perfect printable certificate for well behaved little monkeys!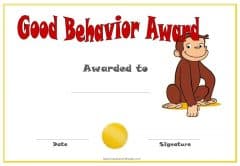 Certificate for Merit
This printable certificate can be awarded to kids for achievement
Certificate of Appreciation
Has your child really tried to help out around the house, do chores or make a special effort? Award him or her with a certificate of appreciation. It will both make them feel good and encourage them to keep up the effort.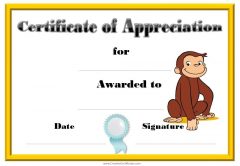 Printable award certificate with a red border and a picture of Curious George
This is a general certificate which can be used for any achievement
Award Certificate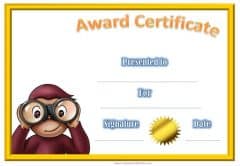 You will find many more free printable certificate templates on this site
Who is Curious George?
Curious George is a curious little monkey. He always seems to be getting into trouble. Somehow, something good often happens as a result of his mischief and he is forgiven. A man in a yellow hat looks after George and tries to help him keep out of trouble. My son adores him so I find myself reading all about Curious George nearly every day!