With our free online certificate maker you can create a custom award certificate template in under 2 minutes. No registration is required to create or download the certificate template. Just follow these simple steps and your certificate will be ready in no time at all. Each printable certificate can be used for any purpose since all of the text can be customized.
How to Create a Certificate Template (free)
Step 1
Click on the selection of borders and you will see a preview of how each border will look below. You can scroll to see additional borders. Once you have chosen your border you are ready to move on to the next step.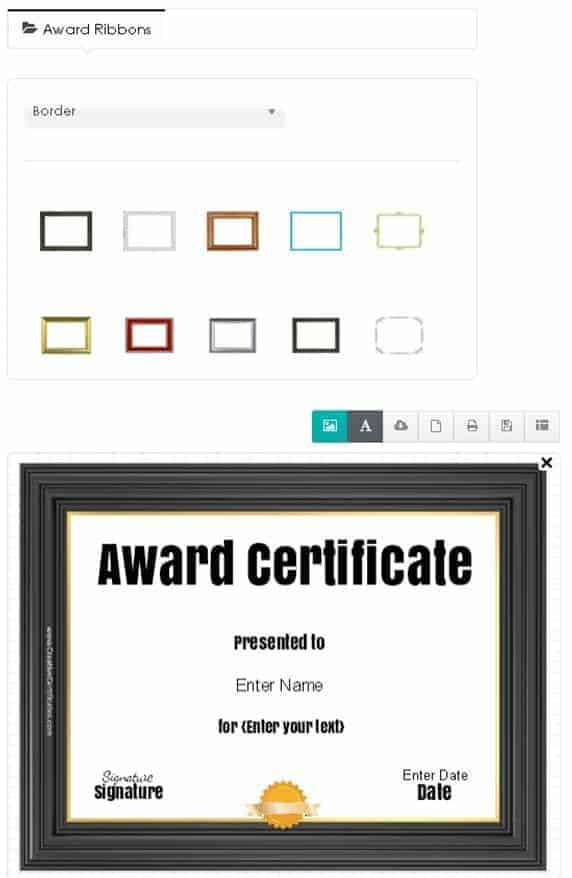 Step 2
To see the selection of borders first click on "Click here to select a border or ribbon" then click on "ribbons".
Click on the selection of ribbons and you will see a preview.
You can move the ribbons around if you want to change the position. You can also make them bigger or smaller.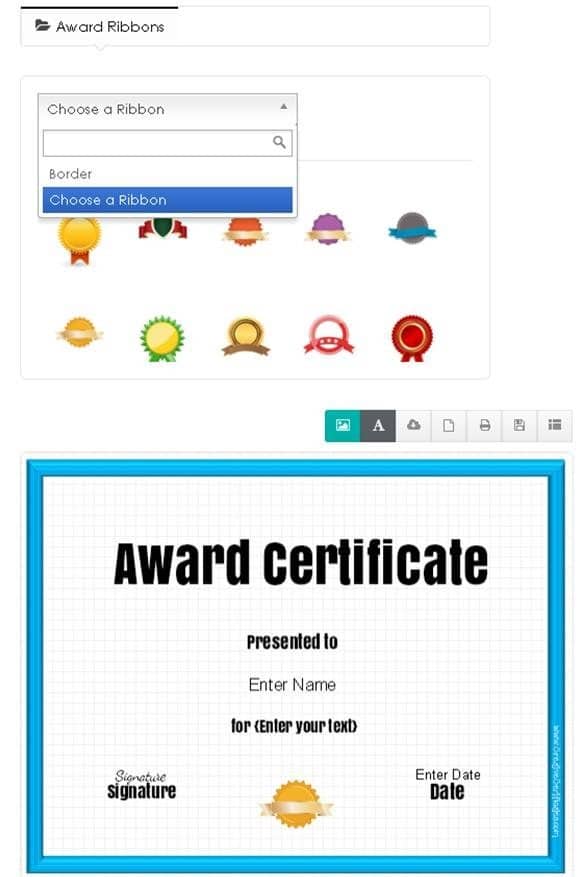 Step 3
You can change the title of the certificate. Just click on the text that you want to change and type the new text. You can also type in the text box under "font and styles" (see image below). For example, you can write certificate of appreciation, certificate of completion, certificate of participation or whatever you want to appear as your title. You can also change the font, make it bold or italic and make it bigger or smaller. You can also drag the text around if you want to move it.
Add the name, reason for receiving the award certificate, date and the name of the person awarding it.
Step 4
Usually the certificate template will be ready after step 3 but some people might want to further customize it and add additional text or even a business logo.
To add a logo or an image click on the image icon to the left (see below).
To add text click on the letter A (second icon to the left) see below.

Step 5
Download as an image or as a PDF document or just print.
To download as an image (click on the icon that is marked above).
To download as a PDF document (click on the page icon).
To print click on the printer icon.
Step 6
You should be ready to go!
Feel free to use this certificate maker to make as many certificate templates as you need!