Perfect Attendance Award Certificates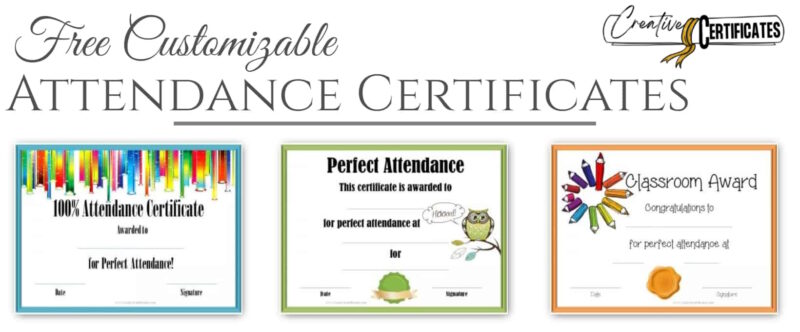 Perfect attendance certificate template printables to award to students for perfect attendance. Create custom award certificates that you can personalize online before you print. Add your school's logo or a photo of the person receiving the award. There are many more designs available to customize with our free certificate maker.
The perfect attendance images above are only samples of those available on this site. With our free online certificate maker, you can make many more award certificates.
If you are looking for a certificate of attendance that does not mention "perfect attendance" then please scroll down to see more templates below. If you want to customize all the text then try one of our certificate templates.
---

Certificate of Perfect Attendance for Employees
You can use these templates to award employees for taking part in training programs or for not missing work. Select any border, preferably with a color that matches your logo. Upload your logo to make the award look more official. Awarding employees for attendance will probably motivate them not to miss work since it will show them that their perfect attendance does not go unnoticed.
The following certificate templates have two options:
Certificate of Attendance Template

with

a company logo (see below)
Certificate of Attendance Template

without

a company logo (click on "without logo" below)
Select the attendance certificate that best suits your needs from the selection below. There are 10 different colors available so you can select the color that matches your company logo if you want to add one.
---
Attendance Award Certificates
While many people look at attendance as a basic requirement of functioning in society and on the job, many children have the perspective that it is actually something difficult. It's always good to incentivize good behavior, and one of the ways that you can do this for attendance without going overboard is to award attendance certificates.
Attendance certificates might be little more than a piece of paper to you, but for the recipients, they are an acknowledgment that they are doing the right thing and that they should keep going down the path that they have been on. Here's some information that you should know about our attendance award certificates.
Benefits of Our Certificates
Free
All of our certificate templates are free to customize, download and print.
Customizable
One of the main benefits of attendance awards is that they are highly customizable and can be personalized. If you have ever received an award, you know that it means a little extra when the award has your name and relevant information on it. With our attendance awards, you'll find that it's easy to make this happen. We offer attendance award certificates that specifically reward an individual for their attendance accomplishments.
Encourages Attendance
If you want to encourage attendance, one of the best ways to do so is to make attendance feel like an accomplishment. When people have set and defined goals and realize that there is a benefit to achieving those goals, the chances that they will rise to meet the occasion is much larger. With attendance certificates, you can incentivize good attendance and ensure your students have something to look forward to at the end.
Increases Enthusiasm
Whether you want to promote enthusiasm for school or another activity, attendance certificates are a great way to do so. With attendance certificates, children will look forward to coming to school or another activity because it will be another stepping stone in meeting their attendance goals. This could help to form a newfound enthusiasm for their activity or school.
---
How do you prepare these certificates?
There are two ways to complete these attendance certificates.
1) Handwritten Version: Click on the picture of the certificate you would like to use and print it. You can then add the details in your own handwriting.
2) Typed Version: You can also use our certificate maker to enter the details before you print. This will create a more professional-looking certificate since it will be typed and not handwritten. To open the certificate maker, just select the certificate you want to use and click on the "customize" button next to it. Once the certificate maker opens, type in the details and then either save the image on your PC or print it.
Each template has sample attendance award wording that you can edit if you prefer.
---
Did you find what you were looking for? We also have hundreds of free certificate templates that you can customize with our certificate maker.