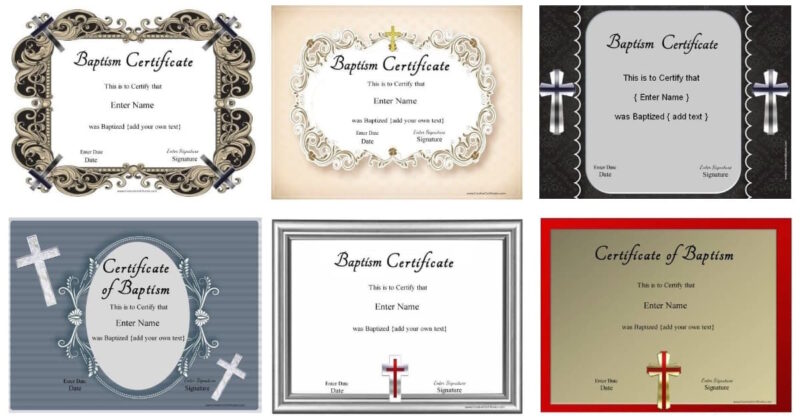 If you are like millions of other parents, families, or pastors out there, then you look at a baptism as an event to celebrate. Baptisms are joyous occasions and deeply rooted in religion. However, there are not very many good ways to commemorate this amazing event. One option that you do have is a baptism certificate. Baptism certificates are a great way to look back on the day fondly and have a memento of the day of baptism. They are a great addition to baby books, scrapbooks, and other documents meant to remind people of happy occasions.
We are happy to offer baptism certificates that will meet your need and provide you with something to look back on happily.
Free printable baptism certificate for churches to certify that someone has been validly baptized. You can edit each printable baptism certificate template below and change the text according to your needs. You can also add your church logo if you have one (see instructions below). There is space to add the name of the person who was baptized, the date of the baptism, and the name of the pastor. You can change all the text and add additional text as well. You can also add the name of the godfather or godmother on your certificate of baptism. Click on "add text" to add the name of the witness or additional text such as "baptized in the name of the Father and the Son and the Holy Spirit."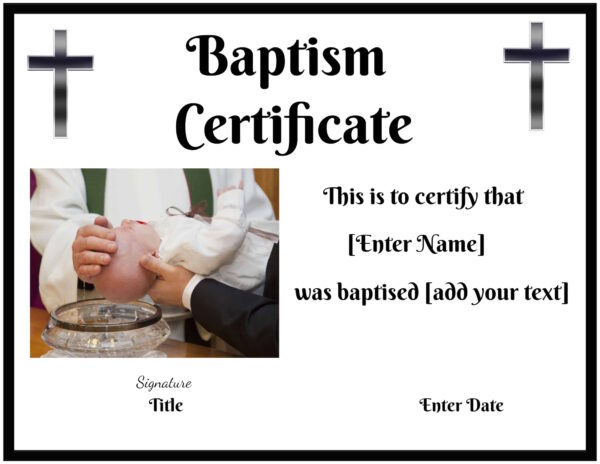 You can add a photo to any of the templates.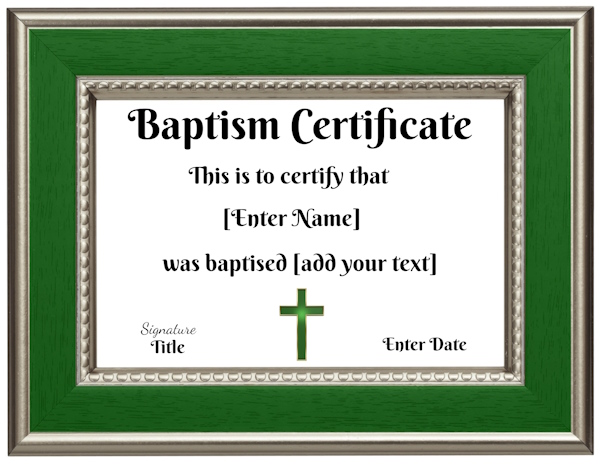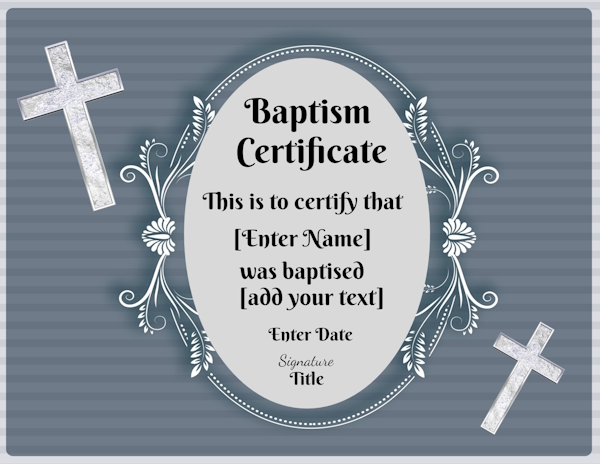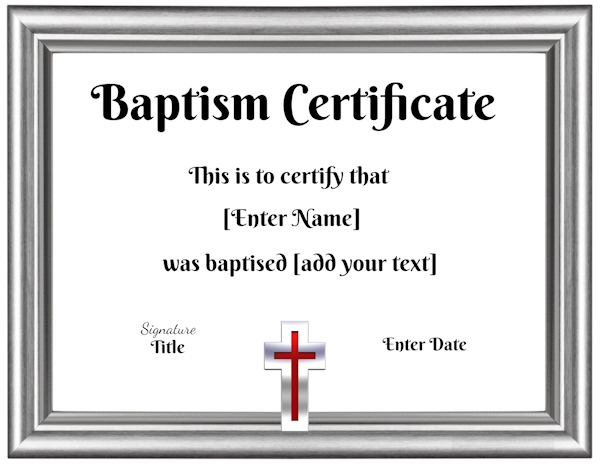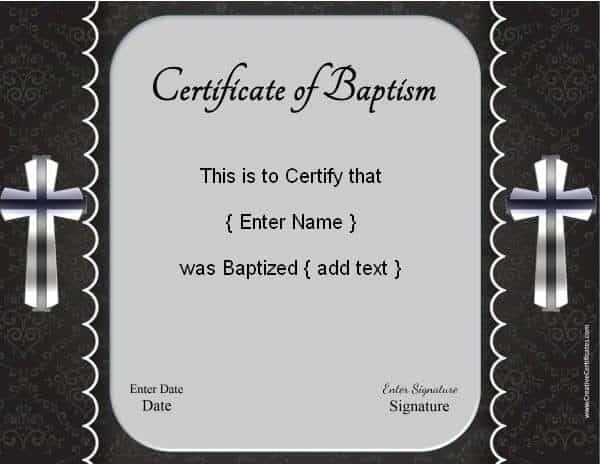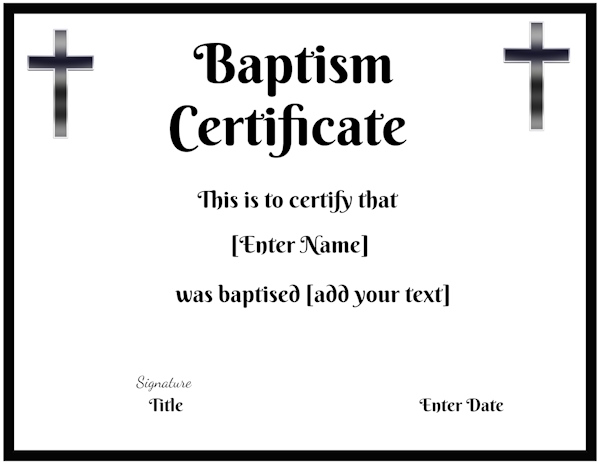 How to Add Your Church Logo
Click on any template above to open the certificate maker.
Select the baptismal certificate sample you want to customize.
Type in the text that you would like to appear.
Click on "Add a Logo or Photo".
Upload your logo.
Drag it to wherever you want it to appear.
Use the arrows to make the logo smaller or bigger if you need to resize it.
Once you are happy with the final product, download it as an image or a PDF file.
How to Add Your Photo
To add a photo, follow the instructions above but add a photo instead of a logo.
How to Edit Text
To edit text, double-click on the dummy text and type your own text. To add text, click on the A icon, and a new text box will be added. If you want to use the templates for another purpose, such as a Christening certificate, then double-click on the title and change it accordingly.
Not all Christians see baptism as necessary. Those that baptize often do it "in the name of the Father, and of the Son, and of the Holy Spirit," but some baptize in Jesus' name only. Since you can add text to the Baptism certificate template, feel free to add text such as "in the name of the Father, and of the Son, and of the Holy Spirit" or "in the name of Jesus" according to your belief and customs.
If the certificate is required for a name-giving ceremony or when a person is initiated or purified, then feel free to edit the text accordingly.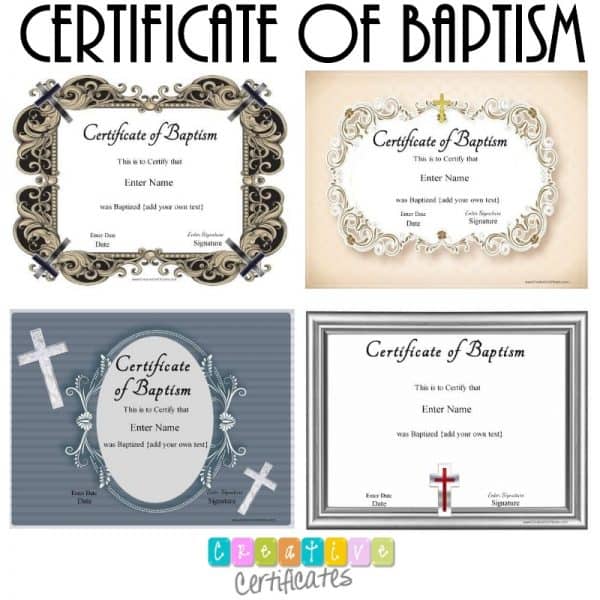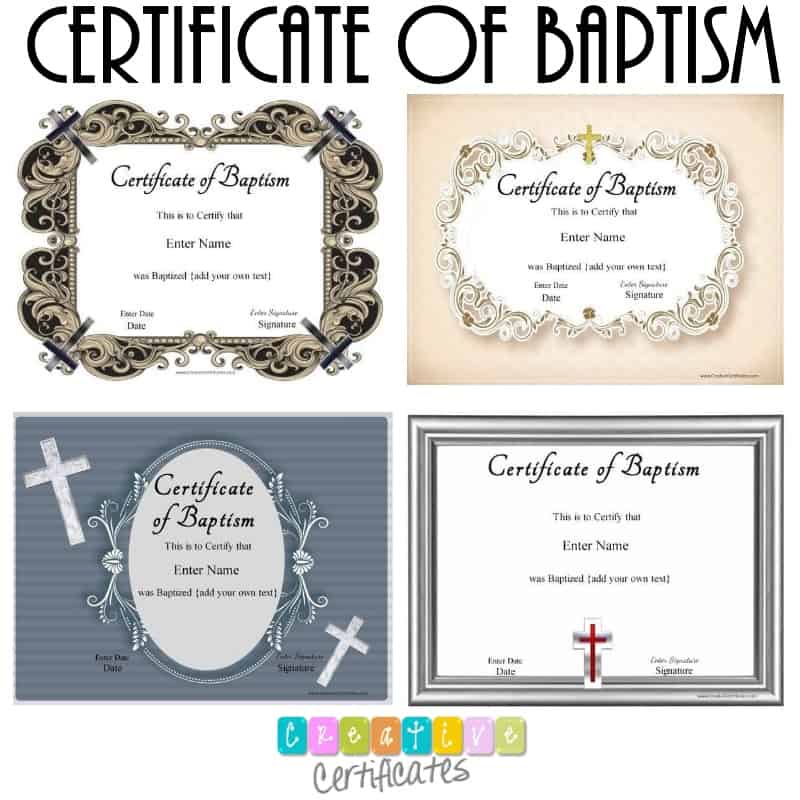 Please note that you create the baptism certificate online and you do not need to download any software to create it.
Godparent Certificate
Godmother Certificate
To make an online Godparent certificate, either use this Godmother certificate template or select any of the templates above and edit the text.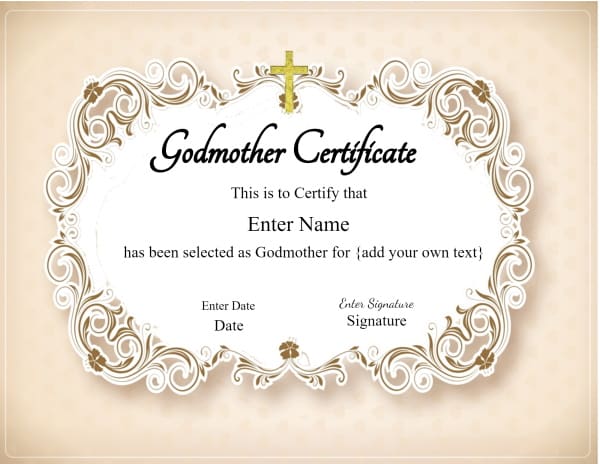 Godfather Certificate
The sample Godparent certificate wording that appears on the template is as follows (however it can be edited):
This is to certify that [name]
has been selected as Godparent for [child's name]
Date:
Signature:
You can use it for any purpose and add any text. For example, create a dedication certificate for Godparents, a christening gift card template or even a certificate of attendance for those who participate in the Christening ceremony. Feel free to use the template for any purpose.
---
What is a baptism certificate?
A baptism certificate is a document that serves as a record of a person's baptism within a Christian religious tradition. Baptism is a significant sacrament or religious ritual in Christianity, symbolizing the individual's initiation into the Christian faith and their commitment to follow Jesus Christ. The certificate provides official documentation of the baptism and typically includes the following information:
The name of the baptized individual.
The date of the baptism.
The name of the church or religious institution where the baptism took place.
The name of the officiating clergy or minister who performed the baptism.
The names of the godparents or sponsors, if applicable.
A statement or declaration of the significance of baptism in the Christian faith.
Sometimes, the denomination or specific Christian tradition (e.g., Catholic, Protestant, Orthodox) may also be mentioned.
Baptism certificates are often presented to the baptized individual and their family as a keepsake and a way to commemorate the event. They may also be required for various purposes within the church, such as enrolling in religious education programs, receiving sacraments like confirmation, or for membership records.
These certificates are typically issued by the church or religious institution where the baptism occurred, and they may vary in design and content depending on the specific religious tradition and local customs. They are usually signed by the officiating clergy or church authorities to make them official and legitimate documents within the church community.
About Our Baptism Certificates
A baptism certificate sounds so simple—but it can have such a big impact. Here's some information that you will want to know about our baptism certificates that make them a great choice for you, your child, and your church.
Customized Certificates
If you're looking for a personalized, customized gift for your baby on baptism day, then a baptism certificate is a great option. Our free baptism certificate template has details for you to fill in to ensure that the certificate is specific to your baby and your baptism.
Remember the Day
Baptisms are great days, and you will undoubtedly want to remember the day. A great memento for a baptism is a certificate that lists the name, date, and time. With this certificate, you'll be able to stroll down memory lane and also have proof of baptism whenever you might need it.
Scrapbook / Baby Book Additions
If you are looking for great additions to your scrapbook or baby books, then a baptism certificate is a great choice. Baptism certificates can be added to your memory-based books and given as a gift to your child later on. From the church's perspective, these certificates can be the perfect accessory to give out following a successful baptism.