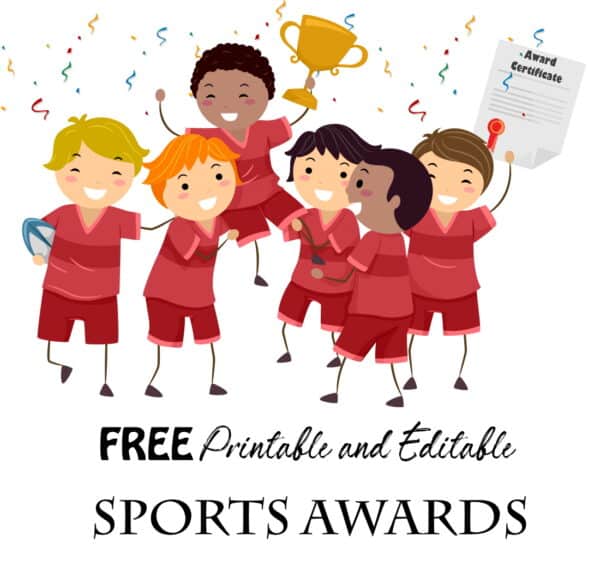 Free printable sports certificates and awards for a variety of sports. You can add a photo of the recipient or of the team before you print.
Each downloadable sports certificate template is editable so you can type all details before you print. You can also add your own logo if you have one. If you want to create a blank sports certificate you can delete the text before you print.
Sports Certificates
Select the sport to open the relevant sports certificate maker:
Badminton | Baseball | Basketball| Bowling | Chess | Cheerleading | Dance Awards | Darts | Football | Fantasy Football | Golf | Hockey | Gymnastics | Lacrosse | Netball | Physical Education PE | Ping Pong| Running | Rugby | Skating | Soccer | Softball | Swimming | Table Tennis | Tennis | Track and Field |Volleyball
If you would like another sports certificate template, please post a comment and we will try to add it to the collection.
Generic
Certificate of Participation | Winner Certificate Template
Sports Awards
Each year, millions of children participate in athletic events. While it is true that sports can be fun and competitive for everyone involved, it is necessary to realize that sports have a very large role to play when it comes to the development and progress of children who participate. If you want to ensure that your child or a child in your program gets the most out of sporting events, you should definitely consider sports awards and certificates as a valuable tool to help them.
When you give sports award certificates, it can have a lasting impact on the child receiving them. Many people think of sports awards as frivolous, but to truly understand the awards and the impact that they can have, you need to transport yourself back in time to when you were a child participating in sports. There are many great benefits to be had from giving sports awards to children.
Free Printable Sports Certificates
In addition to the printable certificates above, you can also use our certificate maker to make your own sports award certificates. You can upload an image related to the relevant sport or a picture of the recipient or of the team. To add a picture to any certificate, just click on the image icon.
What can these free printable sports templates be used for?
Sports day certificate templates
Sport awards
Sports clubs
After school activity awards
Achievement certificates for kids
Certificate of participation in sports events
Encouragement is Key
Sports can have a huge impact on the life of a child, when done right. Here are some of the amazing benefits that are enjoyed when an organization or parent decides to give awards to young athletes.
Self-Esteem
If your child is repeatedly trying and working their hardest, but receiving no positive feedback, it can easily hurt their self-esteem. This is an issue that can have a lasting impact that goes well beyond sports. Most kids will never be the best in their field and need positive feedback to boost esteem.
Continuation
If you want your child to continue sports, the fastest way to ensure that doesn't happen is to lose their interest by not bothering to award them. We all play games for something. For children, they want to know that they are doing well and receive encouragement. Otherwise, they don't have much motivation to play.
Confidence
Confidence is built on and off the field. You can give a child a great head start in being confident in their value and their abilities by providing them with an award for a job well done. A child that does something well will see an increase in confidence when dealing with other situations, as well.