We offer a selection of free Thanksgiving border templates you can use for any purpose. You can either print the borders as-is or click on "customize" to add text and images. This is an instant download, and no registration is required.
You can edit the following free Thanksgiving borders by clicking on the button under the design of your choice.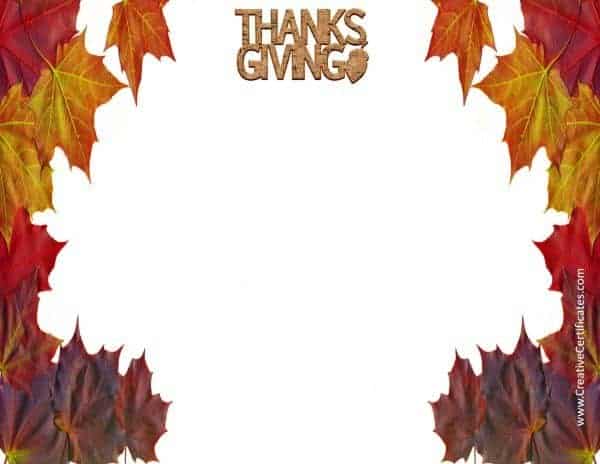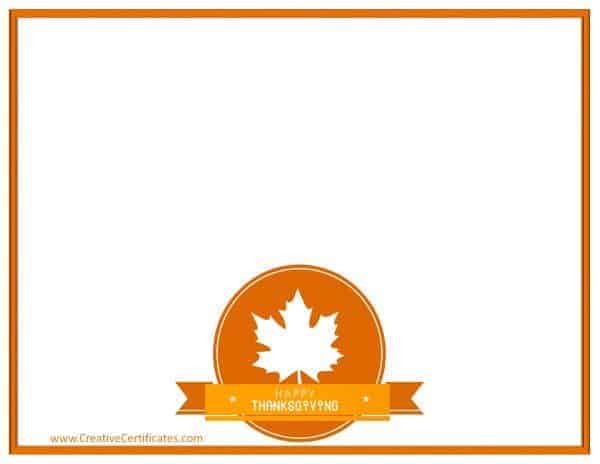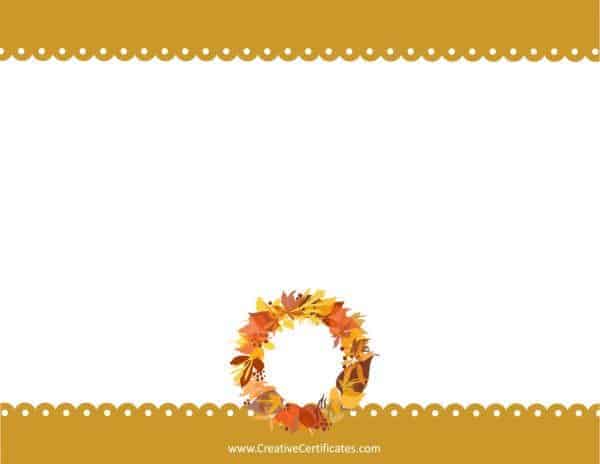 Clipart Borders
The following borders include clip art related to Thanksgiving. This printable turkey clipart is really cute and can be used for multiple purposes.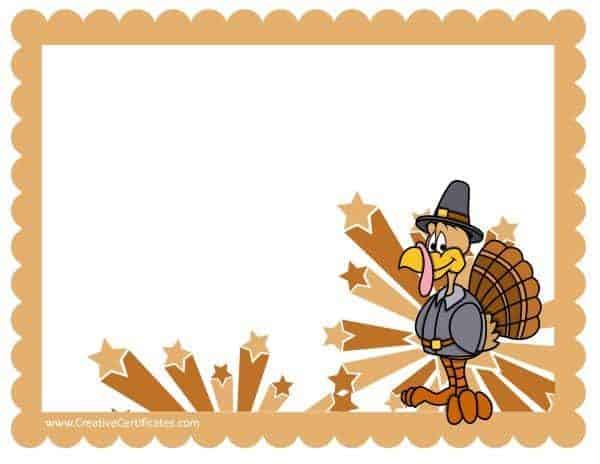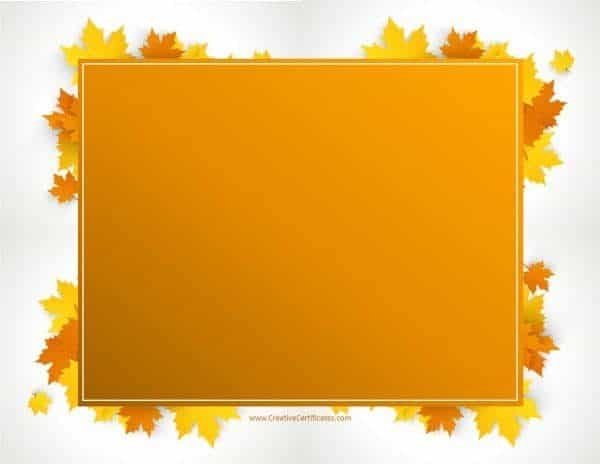 Thank you!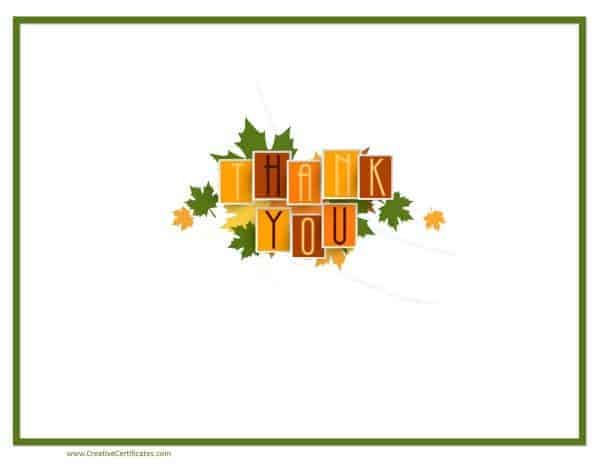 This thank you border clip art has a cute turkey in the corner and reads "Thank You" in the opposite corner.
This Happy Thanksgiving border is great for a card or letter.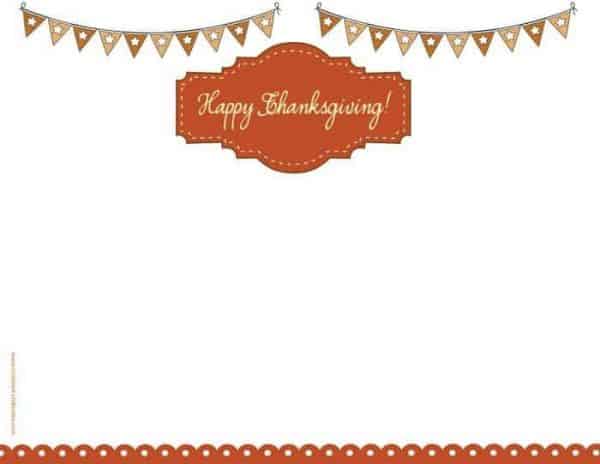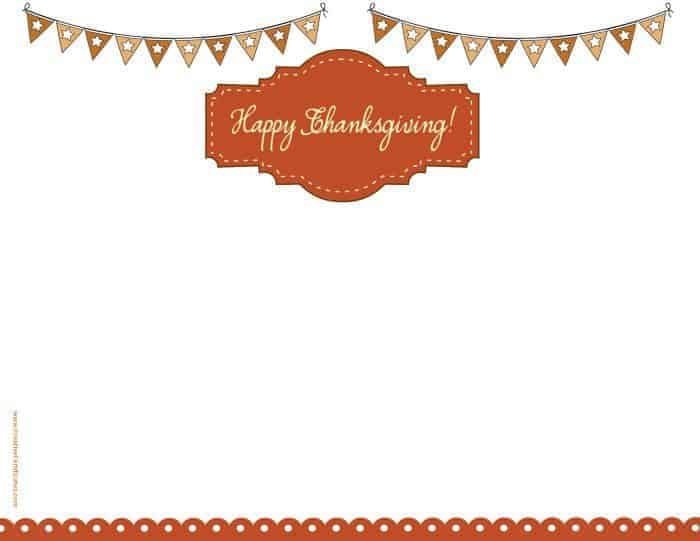 We also offer a certificate of appreciation for Thanksgiving. Print any Thanksgiving template free of charge either blank or with text and images.
You can use the backgrounds and borders for personal or educational use, but you cannot place them on your website without linking back to this site.
How to Download
You can download these borders as PNG image files or PDF files. To get downloadable Thanksgiving images, click on the cloud icon. To get a PDF document, click on the page icon.
How to Print
You can make a printable Thanksgiving border that you print at home on a simple printer. To print, download the file (as per the instructions above). Locate the file. If you didn't instruct otherwise it will be saved in your downloads folder. Then print from the file. You can print on the print icon but many users find they have less control and the image doesn't always fit on one page.
Uses for these Page Borders
You can create thank-you notes, stationery, letters, posters, place cards (print 6 to 8 on a page to create place cards for your Thanksgiving meal), greeting cards, Thanksgiving page border, etc. You can also make a menu for your Thanksgiving meal.
How to Make a Thanksgiving Certificate?
Select the template you want to use from the selection above.
Click on "customize" to open the border maker.
Click on the "A" icon to add text.
Add text to the certificate and move it around or drag it to make it larger.
You can also click on the picture icon to add a photo or picture.
We also offer ready-made Thanksgiving appreciation certificates.
How to Make Free Thanksgiving Letter Borders
If you want to use the printables to create letters, then you have two options:
Print a blank border and handwrite the message.
Type the message before you print it. To type, you will need to select a border template from the selection above. Click on the button below. Click on the letter A to add text. Drag the text to wherever you want it to appear.
You can also make free printable Thanksgiving letters in Microsoft Word. See the instructions below.
How to Add an Image
You can add any image to your Thanksgiving picture border.
To do so, click on the image icon. A popup will open to select the image. Select any image from your PC and click on it.
Move it around until you are satisfied with the placement.
How to Make a Gratitude List
Select any Thanksgiving page border above.
Print it.
Write 10 to 20 things that you are grateful for. They don't have to be major things. You can be grateful for the sun that gives us light. You can be grateful for the food you have. Even if you are unfortunately not feeling very lucky at the moment try to look for the things you do have instead of the things that you don't have. It will change your outlook and make you happier.
How to Make a Use any of the Borders in Word
You might want to use this Thanksgiving border clipart to create a border in Microsoft Word. It only takes 2 minutes and it will make your page border look great!
Select any Thanksgiving border paper from the selection above. Download it as an image (png).
Open a Word document.
Got to the Insert tab.
Select "Image".
Select the Thanksgiving border image that you downloaded previously.
Right-click on the image and go to "Wrap Text".
Select "Behind the text."