Honor Roll Certificate Templates
Free printable honor roll certificates you can customize before you print!
We are happy to offer honor roll certificates to parents and educators who want to incentivize students to do their very best in school. If you want to drive children in your life to accomplish all that they can accomplish, then an honor roll certificate is a great way to do it. We care about the academic achievement of young adults and that is why we offer these customized certificates to parents and educators free of charge.
A-B Honor Roll Certificate
Free printable A-B honor roll certificates. Since you can edit the text, you can use any of the templates below for this purpose even if they do not read A-B.
We offer templates for younger children and for older children, with or without a photo. There are many different templates and designs available.
There are many different designs and layouts available. You can edit all the text.
A Honor Roll Certificate
For those who got all As.
You can edit each element on the following Honor Roll certificate examples. You can change the title, the borders and all the text.
Whether you are a student, a teacher, or a parent, honor roll certificates are a great way to celebrate academic success and encourage students to continue to work hard in their studies. So why not consider awarding them to those who have earned them? It's a small gesture that can have a big impact on a student's motivation and sense of accomplishment.
Select an honor roll certificate template from the selection below and click on "customize" to type the details such as the student's name, name of the school, teacher's name, the reason for receiving the award. Once you have customized the certificate, you can download it as a PDF document or as an image.
To make a principal's honor roll certificate, replace the word "teacher" with "principal". Add the principal's name and signature.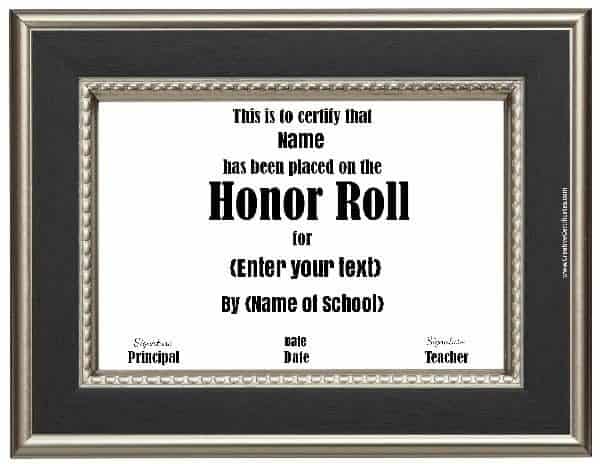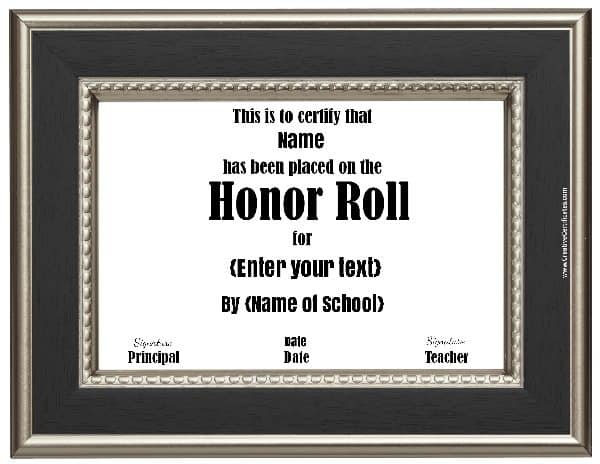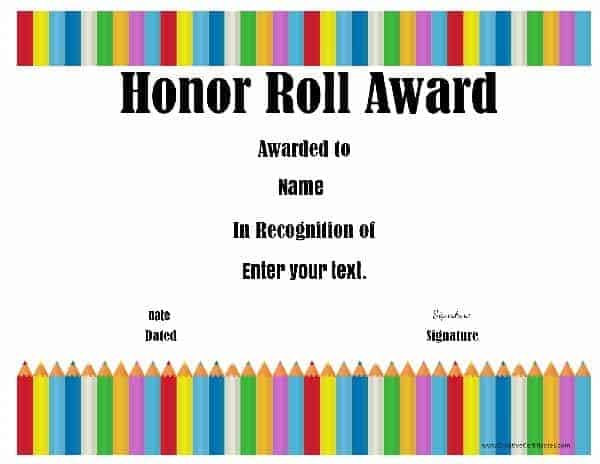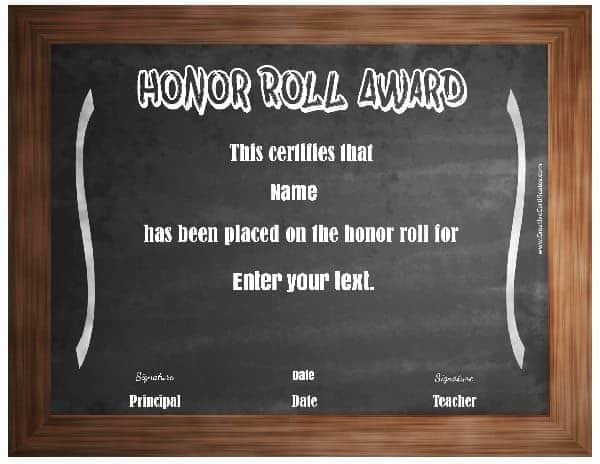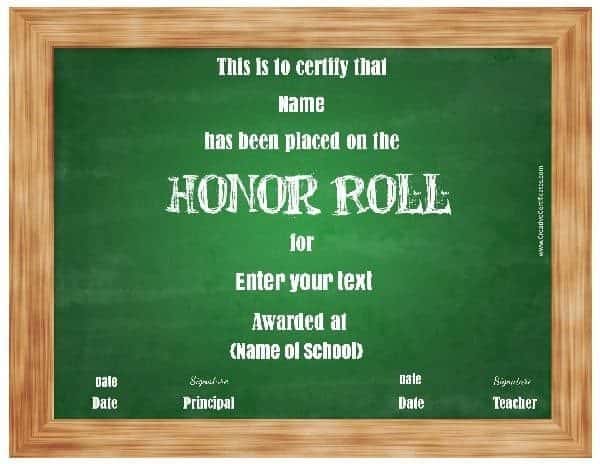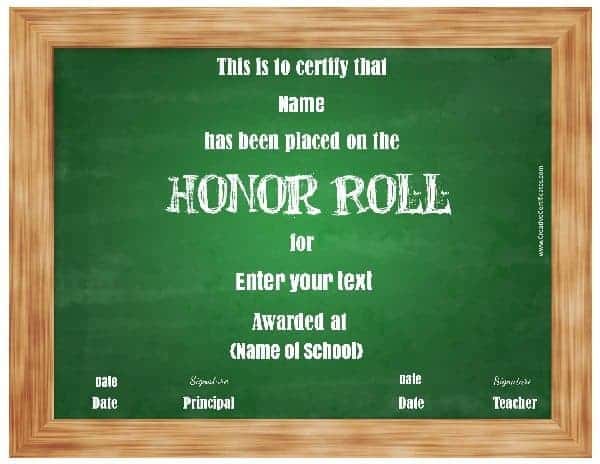 Honor roll certificates are a great way to recognize and celebrate academic achievement. These certificates are typically awarded to students who have demonstrated exceptional performance in their studies, such as maintaining a high GPA or earning top grades in their classes.
Honor roll awards can be used in a variety of ways. They can be given out at school assemblies or other ceremonies to publicly recognize the accomplishments of students. They can also be used as a way to motivate students to continue to strive for excellence in their studies.
In addition, honor roll certificates can be included in a student's academic portfolio, which can be an important tool when applying for college or other educational opportunities. They can also be used as a way to impress potential employers by showcasing a student's dedication and hard work.
---
Don't like any of the designs? See our free printable school certificates or certificate maker (for more formal templates). Since the text can be edited you can use them to create free printable honor roll awards.
How to add your school logo?
Click on "Add Photo".
Drag your logo to the desired location.
What can these certificates be used for?
Schools and teachers can use them to award students for academic achievement. Proud parents can use them to award their children for being on the honor roll.
Use them:
To recognize students on the honor roll for their academic achievement.
To award students enrolled in honors courses or honors program.
Certificate template for honors
For all students who are members of an honor society.
Create an A honor roll certificate printable (for students with all A's).
Why Choose our Award Certificates?
For many students around the world, achieving honor roll status is a huge accomplishment. Honor roll is something to be strived for, but it is also an achievement to be recognized. Without proper recognition and incentivization, many students will not bother to strive for the accomplishment or lose interest. It's important to mark this achievement with the appropriate recognition.
They are Free
We do not charge you to customize or to print our free certificate templates.
No Registration is Required
We will not ask for your email and do not require a lengthy registration process to download any template. Simply click on download and your custom certificate will be downloaded.
Customized
When you use our free certificate maker, you get to select the border, the award ribbon, and to edit the text.
When you create our honor roll certificate, you can be sure that the child who achieved the honor roll receives something that is personalized for them. With this kind of recognition, they are much more likely to respond positively and continue to do their best in school. Everyone loves to receive acknowledgment for their achievements.
Incentivize Academic Performance
When people receive awards for things that they do well, it tends to reinforce their efforts and encourage them to continue to do well. It's no different for students. They want to hear that they are doing a good job in school and when their achievements are reinforced with a certificate to back it up, they are going to be much more likely to strive for the honor roll again and again.
Recognize Achievement
Aside from the incentivizing aspect of it all, it's good to recognize achievement. We should be rewarding students and recognizing their achievements if we want them to feel confident and happy. See also Certificate of Achievement.
If you would like to recognize the other students who did not qualify for the A or A-B honor roll, then please see our school certificates or generic certificate maker.