Preschool Graduation Certificates
Preschool graduation certificates to present to children at the end of the year. Each preschool certificate can be personalized with the child's photo, name, name of the preschool, date, and teacher's name or signature. The certificates can be printed once you have typed these details or you can print them and add the details by hand. Either way, they will be great preschool keepsakes.
Printable Preschool Certificate Templates
You can edit all text on the following certificate templates so feel free to make any changes and to use them for any purpose.
With a Photo
With No Photo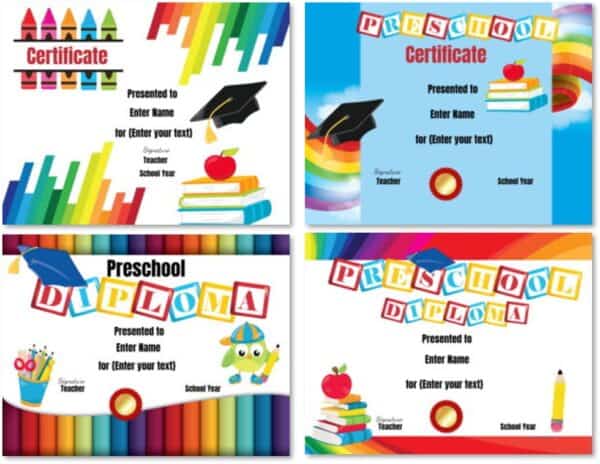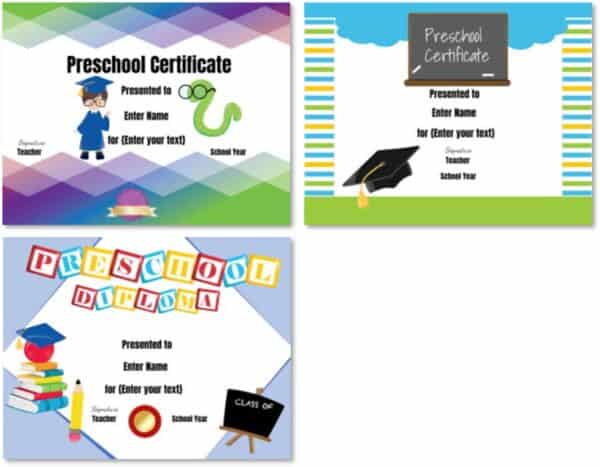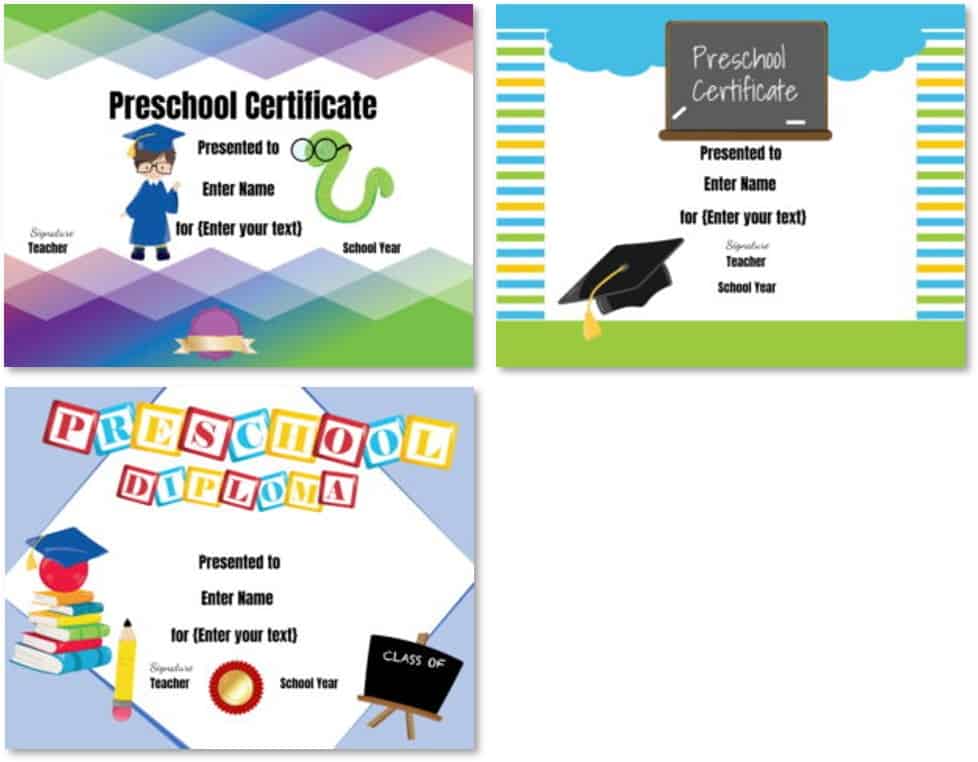 Photo Diplomas
Day Care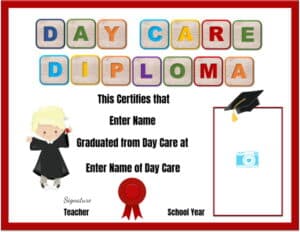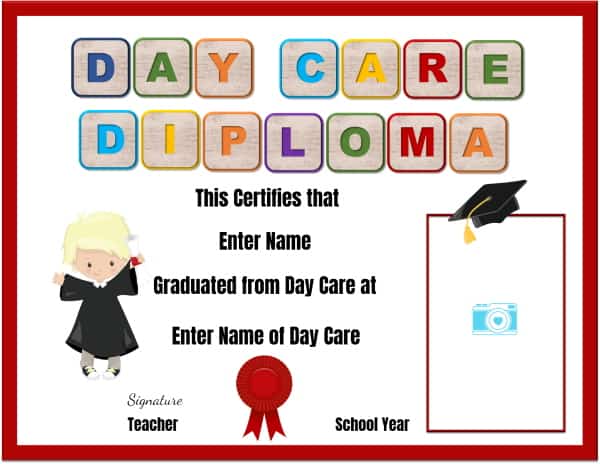 Preschool
There are two kinds of preschool award templates: with a photo (above) and without a photo (below).
Pre-kindergarten Diploma Printable
There are two versions of pre k diplomas (printable) – without a photo (below) and with a photo (add the child's name and photo to personalize the free printable graduation diploma).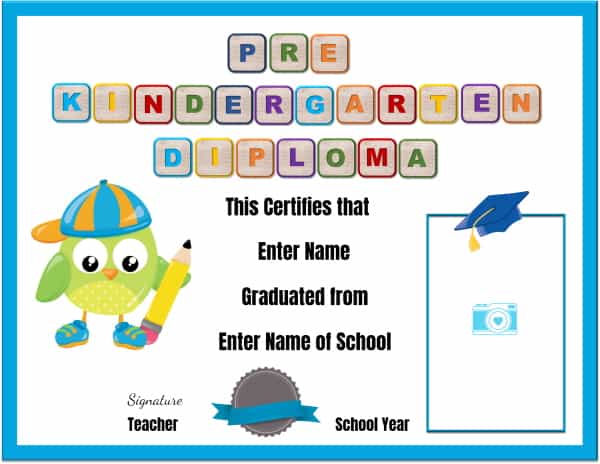 Junior Kindergarten Diploma Printable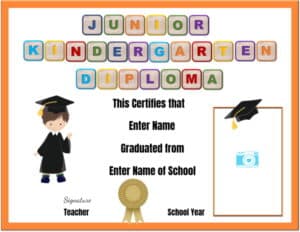 We offer a selection of Kindergarten diplomas.
Generic Diploma
This certificate can be used for any purpose such as graduation from transitional kindergarten or any other framework for children. The title reads "diploma" and all of the other text can be edited. The design is for children. If you are looking for a generic diploma for adults then see our graduation certificates.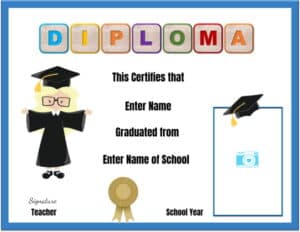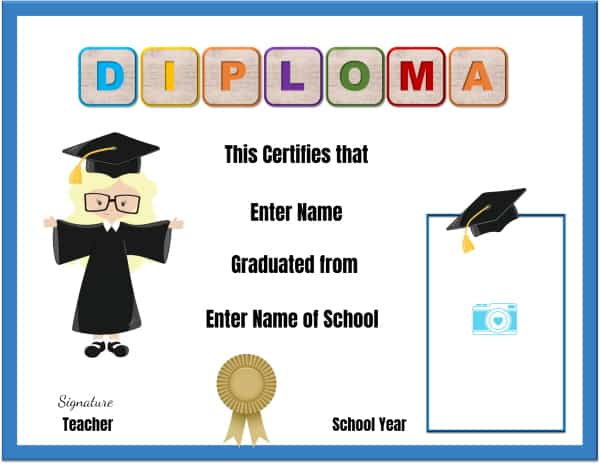 If you have a child that's finishing preschool this year, check out these ways to make a preschool graduation ceremony more memorable. 
How to Make a Preschool Graduation Ceremony More Memorable
Your little one will only graduate from preschool one time in their life. So, why not try a few of these simple ideas to help the event be memorable for both parents and child.  This will likely be the first celebration that your child remembers as they get older, so you want to help it be extra special.
Why is preschool graduation important?
Not only will this day make your child feel special, but it will also help mark the beginning of their time as a kindergarten student. This can make the transition into kindergarten a little bit easier for them when it comes time.
To help your child understand, be sure to have a discussion with them about what it means to be a kindergarten. You can tie in how special it is that they are growing up and talk about a few of the privileges they will see as an older child.
Tips for planning a preschool graduation
What you do for your end-of-the-year party really depends on how many people you want to invite and what your budget is. You can certainly make a preschool graduation ceremony more memorable with a small budget just as easily as a large one.
Print a Preschool Diploma
Create diplomas for the graduates using our free editable templates. You can make ones with or without a photo. Please note that on some templates there is an option to move the graduation cap on top of the photo and drag it on to the child's head. This makes a cute photo. You can delete it if you prefer.
You can print these certificates off yourself or you can get them printed at your local copy shop.
Create Graduation Awards
Hand out awards to each child. Since the text on our certificate templates can be edited you can use any of the templates to create these awards. Use a little bit of creativity for this one so that children don't feel left out.
Choose a location
Will you be planning this graduation ceremony at your home or will the school be putting something together afterward? Some people prefer to avoid the crowds and have a small party.
Or, you can rent a party room at your local restaurant if you plan on inviting more guests. Make sure that you plan for seating for enough people. And, always ask guests to RSVP.
If you're on a budget, check with a local high school or church to see if they have space.
Make announcements
To help the day even more special, you can have invitations printed up or create your own. Be sure that you save a few for a scrapbook of the special day. Since all text on the certificate templates above can be edited you can use the templates to create invitations as well.
And, some newspapers or newsletters will allow you to make a special announcement about your child's graduation in their community center. Why not order a sign for the yard at the same time or make one yourself.
Plan the food
Will you be having a cake made at a bakery or at the grocery store? Or, will you be making cupcakes or cake pops yourself? Consider making a themed party with matching snacks and your child's favorite colors.
Don't forget napkins, plates, balloons, and other decorations. Why not buy some that say graduation on them to set the mood?
Choose the props
Will you be taking photographs at the ceremony or party? Don't forget to pick out a special backdrop they can stand in front of. You might also want to consider a cap and robe if the school isn't providing these.
These will be great for a preschool scrapbook that you can look back on each year.
Or, why not make a photo booth with all sorts of their favorite props. You can have dinosaurs, farm animals, or their favorite cartoon characters. Make sure you choose a variety in case you are inviting their friends to participate.
Make a movie
If you want something even more memorable than photographs, why not record their graduation. While you can hire someone to do this, it's also possible to take your own videos using a smartphone or a video camera.
Make sure that you do a few test runs prior to the event just in case.
Other ways to make a preschool graduation ceremony more memorable
If you're looking for a few more ideas, why not try one of these.
Print out a graduation program as a memento that people can bring home with them.
Order a special gift for the teacher to thank them for making this year special.
Craft or purchase party favors and set one at each table setting.
There are lots of ways you can make this day even more memorable. I hope we've given you some ideas to start with.