Open Certificate MakerWithout Watermark  Open Certificate MakerWith Watermark

Free Certificate Generator
With our free online certificate maker, you can create a custom award certificate template in under 2 minutes. No registration is required to create or download the certificate template. Just follow these simple steps and your printable certificate will be ready in no time at all. Each editable certificate can be used for any purpose since all of the text can be customized.
How to Use our Free Certificate Maker
Open Certificate MakerWithout Watermark  Open Certificate MakerWith Watermark
Step 1 – Select a Border
Click on the selection of borders and you will see a preview of how each border will look below. You can scroll to see additional borders. Once you have chosen your border you are ready to move on to the next step.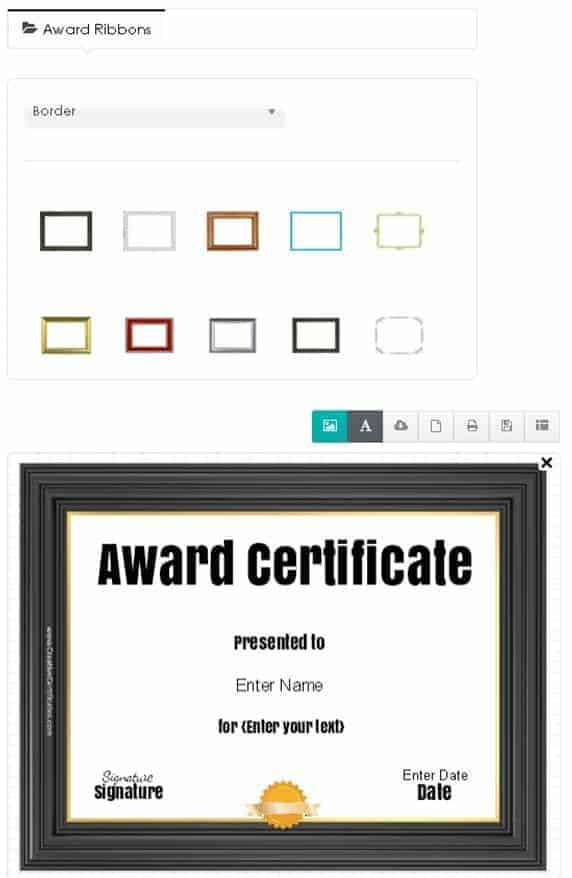 Step 2 – Select a Ribbon
To see the selection of borders first click on "Click here to select a border or ribbon" then click on "ribbons".
Click on the selection of ribbons and you will see a preview.
You can move the ribbons around if you want to change the position. You can also make them bigger or smaller.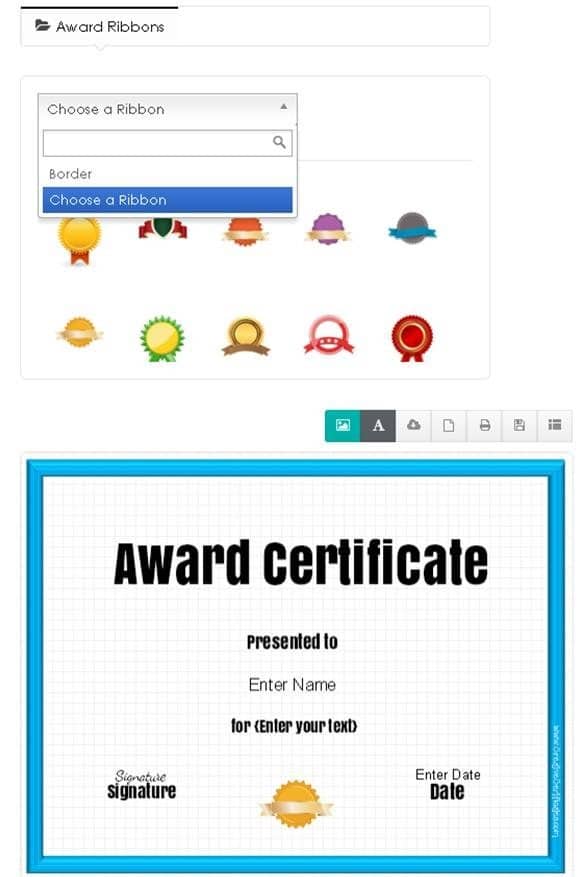 Open Certificate MakerWithout Watermark  Open Certificate MakerWith Watermark
Step 3 – Edit the Text
You can change the title of the certificate. Just click on the text that you want to change and type the new text. You can also type in the text box under "font and styles" (see image below). For example, you can write certificate of appreciation, certificate of completion, certificate of participation or whatever you want to appear as your title. You can also change the font, make it bold or italic and make it bigger or smaller. You can also drag the text around if you want to move it.
Add the name, reason for receiving the award certificate, date and the name of the person awarding it.
Step 4 – Add text, logo or image
Usually, the certificate template will be ready after step 3 but some people might want to further customize it and add additional text or even a business logo.
To add a logo or an image click on the image icon to the left (see below).
To add text click on the letter A (second icon to the left) see below.

Open Certificate MakerWithout Watermark  Open Certificate MakerWith Watermark
Step 5 – Download
Download as an image or as a PDF document or just print.
To download as an image (click on the icon that is marked above).
To download as a PDF document (click on the page icon).
To print click on the printer icon.
Step 6 – Your Certificate is Ready!
You should be ready to go!
Feel free to use this certificate maker to make as many certificate templates as you need!
How to use the Free Online Certificate Maker to Add a Logo or Photo
You can make your own certificate using our free online certificate maker. It is very user-friendly and you might not even need to read these instructions in order to make your own certificate but if you prefer or if you run into any issues then you can read the instructions below.
How to make a photo certificate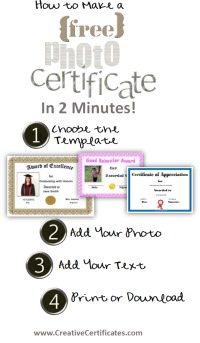 Select the award certificate template that you want to make from the list above. We offer many different certificate templates for various achievements. You can also click on "customize" on any certificate template on this site. Once you do, the certificate creator will open. It might take a few seconds to load.
Type the text that you want to appear on your award certificate.
If the certificate template includes an image then upload an image or logo from your computer. You can add images of ribbons, logos or even photos. If you are awarding children add their photo or a photo of someone they look up to. It can be their favorite actor, pop star or even a photo of their pet. If the certificate does not have an image and you want to add one then just click on the image icon to add the image and drag it to wherever you would like it to appear.
How to Save and/or Print
Once you have created the certificate you can save it or print it. You can save it as an image file or a PDF file. Most computers can open PDF files but if you have any issues then you might need to download Adobe Reader which is a free software that will enable you to open any PDF file from this site or any other site. You can still always download the certificate as an image if you prefer not to open it as a PDF file. When the file is heavy, some users might not be able to download it as an image. You will get an error ("download failed – network error") or the file will just not download.  If this happens then download your certificate as a PDF file.
Print the certificate on stationery, parchment paper or card stock. You can buy these online or at your local office supply store. Before you print, preview the certificate to ensure that it fits perfectly.
Sign the certificate or stamp it with your school symbol or company's logo stamp (if you didn't add a signature or logo online).
Frame the award certificate. Although this step is optional it makes award certificates look far more impressive.
Ideas for Printable Certificates
As mentioned, you can customize most of the award certificates on this site. The heading can be changed as can the text. Therefore, you can use them for any purpose. Here are some ideas for certificates that you can create:
Blank Certificate (just delete the existing text by clicking on the x)
Certificate of Awesomeness
Best Husband
Best Wife
Good Job
If you don't have 2 – 3 minutes to use our certificate generator then you can just print a certificate template and fill in the details in your own handwriting. If you need an official-looking certificate then we suggest that you take a few minutes to type in the details before you print it for a more professional look.