This website was created to provide you with free professional-looking certificate templates you can easily customize to fit your needs. You don't need to download any software or have any graphic design experience. It takes less than a minute to customize each editable certificate and you can add your own photos, logos, clip art, and text. Just type in your details and save or print the certificate. All the printable certificates are free. Each certificate template has sample wording. However, you can edit the award certificate wording and you can add additional text.
There is also a wide selection of free gift certificate templates. You can personalize each gift certificate template with Microsoft Word or with our free online gift certificate maker. No software is required. In addition to the ready-made printable gift certificates, you can create your own custom gift certificate using any background from over 60 available designs. You are sure to find a design that you love!
Here are some examples of the gift vouchers available: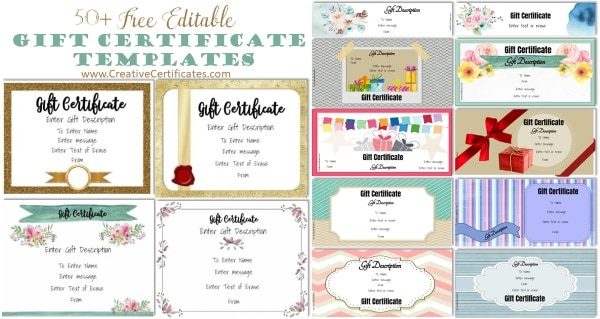 Pin
Pin
Children love to be praised, recognized, and rewarded. A printable certificate can boost self-confidence, modify behavior, encourage participation, motivate students, and recognize achievements.
Birthday certificates for each age are available too | Birthday Party Certificates (printable party favors) | Tooth Fairy Certificate | Birth Certificate Template | Adoption Certificate | Certificates for Baby Milestones
Award Template
The award certificates and printable awards on this site can be customized online. You can either select a generic certificate template or a specific award:
Certificate of Appreciation   |   Certificate of Achievement   |   Certificate of Completion   |   Certificate of Participation   |   Certificate of Recognition   |   Certificate of Training |  Winner Certificate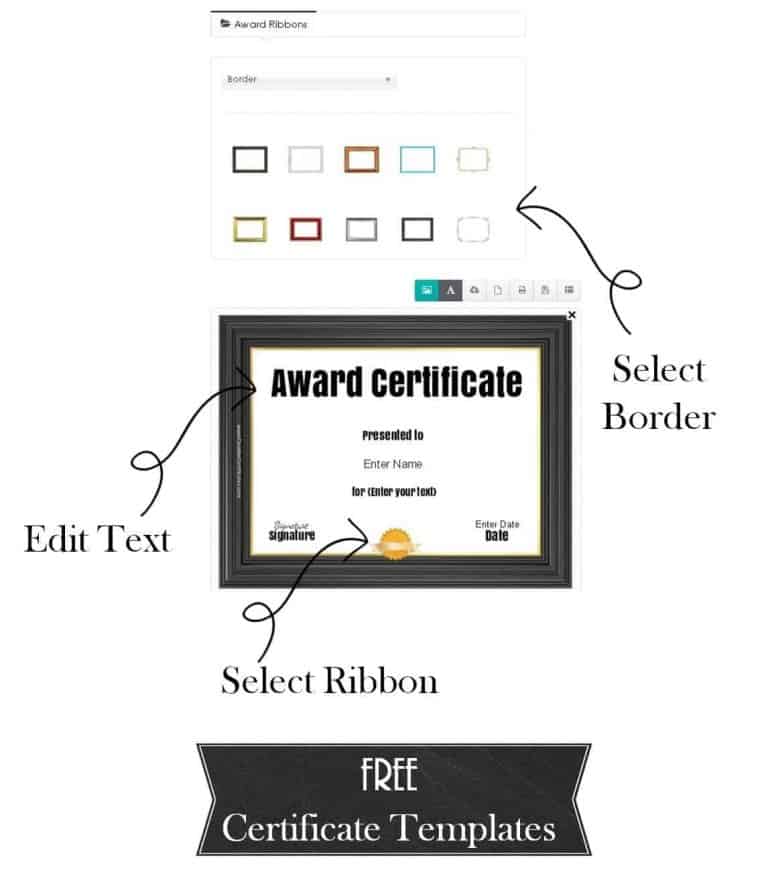 PinThere is a large selection of free award templates on this site. Customize each template to your needs and edit the text. You can also add a logo or image. The difference between the editable certificate templates and the ready-to-print certificates is the level of customization possible. On the ready-made printable certificates, not all the text can be edited, whereas on the templates all text can be changed.
Formal award templates
Informal award templates:
Use the award certificates in the workplace, at school, and at home, for donor recognition, by parents or teachers… The possibilities are endless!
Customize the free templates for certificates with our certificate generator. You can change the text, select a border, and add an image/logo to create custom certificates to suit your needs. To make a certificate, open our certificate maker. Please note that there is no charge to customize or download the certificate images on this site.
PinUse the certificates to motivate children to study and behave well in class. You can award them for excellence, effort, participation, and good behavior. You can even add your school logo!
We offer the following free printable certificates for students:
and many more award certificates. Use our certificate maker to customize any award if you didn't find what you were looking for.
Teachers play an important role in educating our children. They have very difficult jobs and do not always receive sufficient compensation and recognition. Why not make them a free printable certificate as a token of appreciation?
Graduation Certificate
A selection of sports certificates for physical education (PE) and various sports including football, baseball, running, basketball certificates, and many others. We also offer generic awards if you do not find a specific sport.
Certificates for Employees
Use award certificates in the workplace to promote excellence. You can base criteria on knowledge, skills, and/or behavioral competencies.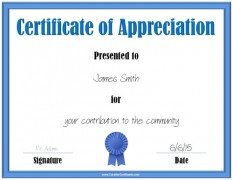 Pin They can also help motivate employees as part of a recognition program. If employees successfully meet their goals, recognize their achievements publicly, and award them with tangible rewards. Tangible rewards do not have to be in the form of money or gifts. Instead, use a printable certificate to reward an employee. This will help motivate employees, build self-esteem, and strengthen company pride.
You can either use one of our ready make certificates of appreciation or employee of the month certificate or create your own certificate template with our certificate maker and selection of certificate borders and designs. You can choose the border that is most appropriate for your company. Since you can customize all the text, you can use the certificate for any purpose. You can also choose the award ribbon if you want to use one.
You can add your company logo to make your certificates look more official and professional. If you are looking for something more fun then try our funny employee awards.
Religion
Love, Marriage, and Family
If you prefer to make the award certificate yourself, then you might want to try a certificate border or a blank certificate from the huge selection available. Use our free our certificate maker to add text and images to the customizable awards or just print a blank border.
Downloadable Certificate Templates
To download it as a PDF document, click on the page icon. To download as an image file, click on the cloud icon.
How to Print Certificates
Once you have customized your certificate, you can then download it as an image or a PDF document. In certain cases, it will only download as a PDF and not as an image. Once downloaded, it will be saved in your "downloads" folder unless you have changed your browser's custom settings. Open the file and preview it before printing. You might need to change your computer settings to ensure that the certificate prints on one page. Some printers have the option to select "fit on page". If you have any problems printing or customizing, then please see our FAQ.
Commercial Use
You can use the awards for personal, educational, and commercial use. If you place them on a website, then you must link back to this site.
Didn't find what you were looking for?
Please contact us and we will do our best to create any award certificates that you request (free of charge).