Best Grandmother Award Certificates
If you want to let your grandmother know how much you appreciate her, then these printables will help you do so! You can even add a photo of your nana with her grandkid/s to personalize the certificate. Each printable certificate can be customized so click on it to type in your details and add your photo (if you use one of the templates with a photo).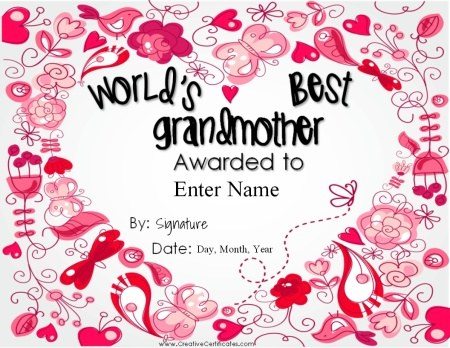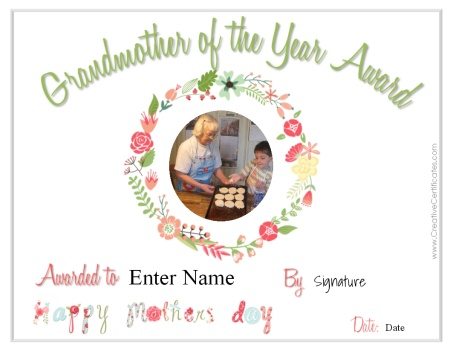 If you used this template and added a photo of all your grandmother's grandkids it would make a really special DIY gift that she will treasure forever!
The other frames are not as big so you will probably not be able to use a photo with too many kids unless the faces are small.
Things to do With your Grandmother
There are many things that you can do with your grandmother to spend quality time together and create cherished memories. Some ideas include:
Cooking or baking together: Let your grandmother teach you how she makes your favorite dishes. Write down her recipes. You can even create a recipe book with all her favorite recipes or the ones you love.
Gardening: Work on a flower or vegetable garden together, or simply enjoy the outdoors by going on a walk or picnic in a park.
Arts and crafts: Work on a craft project together such as knitting, crocheting, or painting. If she has a special hobby, ask her to teach it to you. You might learn something interesting.
Reading: Read a book together and discuss it afterward. Ask her what her favorite book was when she was your age and read it.
Movie or TV night: Watch a movie or TV show together and enjoy some popcorn. Go out to the movies just the two of you to spend some quality time together.
Board games or card games: Play a game together and have fun competing.
Shopping: Go shopping together or do her shopping for her if she finds it difficult to do.
Spa day: Treat your grandmother to a spa day or at-home spa treatments.
Visit a museum or art gallery: Explore and appreciate art or history together. The chances are she has some interesting stories to tell you. Ask her to tell you how things were when she grew up. What was school like, what did she do for fun, etc?
Volunteer: Give back to the community by volunteering together at a local charity or non-profit organization.
No matter what you do, spend time together and create memories.