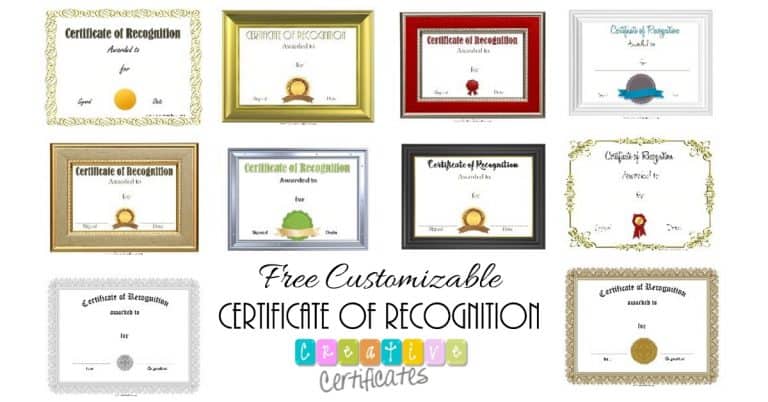 A certificate of recognition is usually given to someone who has achieved a specific feat or done an excellent job in their work.
Select a printable certificate of recognition template below and customize it with your own text. There are many designs available. You can customize them all with our free certificate maker. You can also use our certificate template to create additional recognition certificates if you don't like the designs below. If you select the option to edit each element you will be able to choose hundreds of designs and other layouts.
With our free certificate maker, you can also include a photo of the person receiving the award on the certificate as well as their achievements.
Certificate of Recognition Template
Gold Frames
The following recognition award template printables have a gold frame.
Framed Certificates
This is an example of the framed borders available. Once you click on the button below you can select another border.
Black and White Recognition Certificate Templates
Formal Templates
These templates have a very formal format and layout.
---
How to Customize a Certificate of Recognition Template?
Select a certificate template from the selection above.
Click on "customize".
The template has sample certificate of recognition text but if you select the version below, you can change the wording and make any change you want to the text.
Type all of the details: the name of the recipient, the reason for the reward, the date, and the name of the person or establishment presenting the award.
For example, sample certificate of recognition wording: awarded to (recipient) in recognition of your donation to the Save the Dog Fund, or, for your outstanding service.
If necessary, move the text around and/or make it larger or smaller.
Once you are happy with the way it looks, click on download or print.
Tip: If you are using these certificate templates for volunteers then you might want to check out our volunteer appreciation certificate templates. You can use them to recognize a volunteer's contribution. since you can customize all of the text, you can actually use them for any purpose even if it is unrelated to volunteers.
---
Didn't find what you were looking for? We also have hundreds of free certificate templates available. Customize them with our certificate maker.
Employee certificates are a great way to show recognition. With our free certificate app, you can create certificates for employees for any purpose.
It takes a team to make your business a success and the more successful your employees are, the more successful your business will be. Employees are the heart of every business. However, many business owners do not know how to motivate them and keep them motivated.
Many managers ask themselves is how they can motivate and encourage their staff in order to retain them. One of the best ways to retain them is to build a working environment that recognizes their contribution and achievements. A good recognition culture will help retain your company's best people. Employee recognition is all about acknowledging the effort and accomplishments of your staff. Employee recognition is even more important today since globalization has opened more doors and opportunities for employees. You need to keep them content to retain them. To do this you need an effective appreciation and recognition program. Such a program will include many tools to ensure you stop to appreciate them and recognize their contribution. One of these tools is recognition certificates. When you don't make a conscious effort to award a certificate or stop to praise someone you often get caught up in the day-to-day activities and forget to do it.
When you recognize employees for their work you not only encourage positive energy but it will increase profits in the long run.
---
Certificate of Recognition Format
A certificate of recognition should be written in a formal and respectful tone, as if the person being recognized has accomplished something worthy of praise.
It should include the following information:
The name of the organization recognizing the achievement
The title of the achievement
The date it was achieved
Who it was achieved by
An appropriate description of what they did to achieve this award.
See sample wording below.
---
Certificate of Recognition Wording
A Certificate of Recognition is a formal, written recognition from an employer to an employee acknowledging and rewarding their good work. It usually includes some personal details about the recipient and thanks them for a recent accomplishment. It should be written in such a way that suits both the person who is being recognized for their achievement and the organization that is giving the award.
Generic certificates of recognition
Sample award certificate wording:
This is to certify that [Name] has shown exceptional performance in our training program. The skills and knowledge she/he demonstrated are an important contribution to the success of our program.
Date …………………………………
Signature ………………………….
Proudly awarded to [name] for being a member of the board of directors of [company name] for ten years now. Your efforts are highly appreciated.
Date …………………………………
Signature ………………………….
This is to certify that [name] has shown exceptional performance in our training program. He/she performed with zeal and enthusiasm. We wish him all the best for a flourishing career ahead!
Date ………………………………
Signature ……………………….
This certificate has been awarded to [name] for exceptional performance in the customer service department. The skills and knowledge he/she demonstrated are an important contribution to the success of our company.
Date …………………………………
Signature ………………………….
Presented to [name] for shown outstanding accomplishments in our PR department.
Date …………………………………
Signature ………………………….
Certificate of Recognition for Students
Sample award certificate wording:
[Name of school]
Certificate of recognition
This certificate is awarded to [Student Name] for exemplary performance in class.
Date …………………………………
Signature ………………………….
This certificate is presented to [Student Name] for the commendable and consistent progress in all his/her classes.
Date …………………………………
Signature ………………………….
The principal, teachers, and the students of [School Name] are proud to present this certificate to [Student Name] for Outstanding performance in all her subjects.
Date …………………………………
Signature ………………………….
Awarded to [Student Name] by [School Name], in recognition of the excellent performance and participation in sports during the year 2020-2021
Date …………………………………
Signature ………………………….
[Name of school]
Certificate of recognition
Presented to [Student Name] for the commendable and consistent progress in all her/his classes.
Date: …………………………….
Signature: ………………………
---
11 Ways to Show Recognition
Give employees a recognition certificate
In a digital world, we rarely get a note or award that we can touch and feel. You can print a certificate of recognition for free so it won't cost you anything. It will make the recipient feel recognized and appreciated. Frame the employee certificate so that it can be hung up to show others that effort is appreciated in your company.
Order lunch
Once a month or once every 6 months order lunch for everyone and have a get together at the office. Try to use this time to brainstorm or set future goals. Having lunch together will strengthen their bonds and interpersonal relationships and also make the employees feel appreciated.
If you don't have a budget for lunch then snacks will work too.
Book a team-building activity
One of the best ways to strengthen bonds and interpersonal relationships is via a team-building activity. You don't even have to organize it yourself since there are so many companies that will take care of that for you. However, if you don't have a budget, then you can organize it yourself.
Recognize your employees birthdays
On their birthday send a small gift, call, send a message, or a greeting card. Make them feel appreciated. Celebrate at the office with a cake or give them the day off on their birthday. If an entire day off is too much then let them leave an hour or two earlier. It will make them feel like you care and make them care too.
Give employees extra time off
When employees reach goals reward them with some time off to recuperate. They will return to work refreshed and ready to reach new goals and heights.
Encourage feedback
When you encourage feedback from employees you are telling them that you value their opinion and that it matters to you. You will also be surprised by what you can learn when you listen to people with a different perspective. You might actually learn something!
Create a fun coffee station
Who doesn't love coffee? Set up a fun and inviting coffee station. Treat your staff and buy tea, coffee, and cookies to show how much you appreciate them. Occasionally, you can buy donuts or other treats. It won't cost that much but it will be appreciated.
Encourage education and promotion
Many people leave their job so they can pursue education or get a promotion. That is a lot of valuable experience and knowledge leaving your company. Encourage education and opportunities for a promotion to prevent them from leaving.
Don't forget to say thank you
Yes, you are paying them to do something and yes, they have to do it. However, saying thank you has a lot of power. Saying thank you is such a simple way to show appreciation yet it is more powerful than many think.
Give feedback
Many employees want to hear they have done a good job from their managers. It not only makes them feel good but lets them know they are going in the right direction.
Create a wall of fame
We offer free printables for employee of the month. Why not print one each week and create a wall of fame? This will make employees feel proud and motivate them to be selected. Their motivation will in turn help your business. You can also give employess a Year of Service award certificate to make employee anniversaries.