Create a Custom Winner Certificate in Two Minutes!
Step 1
Select Border
Step 2
Select Clipart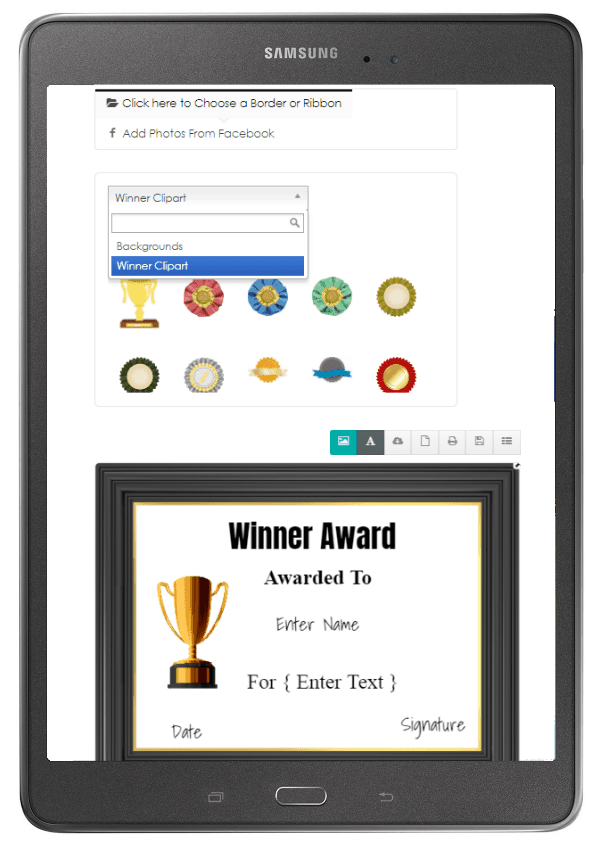 Step 3
Edit Text
Here are some sample winner certificates that you can make with our free certificate maker. You can use each winner certificate template for any purpose since all the text is customizable. It can be a first-place award, a second-place award, or any winner award you want.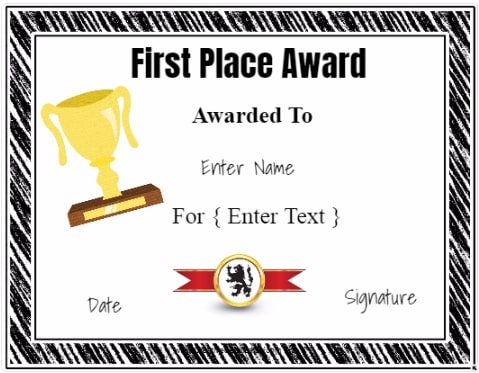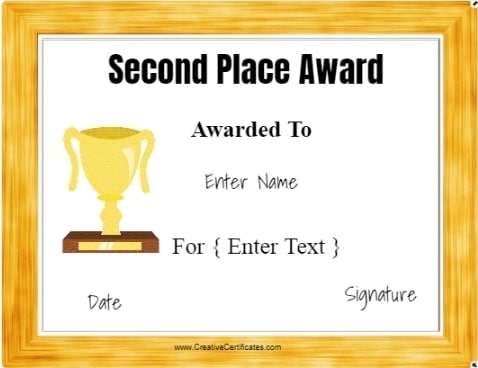 How to Customize the Certificate
You can use the template for any purpose by customizing the title and the content or wording.
To select a certificate border, click on "click here to choose a border" then select the border. There are many borders available. Some are formal and some are fun. They are also available in various colors.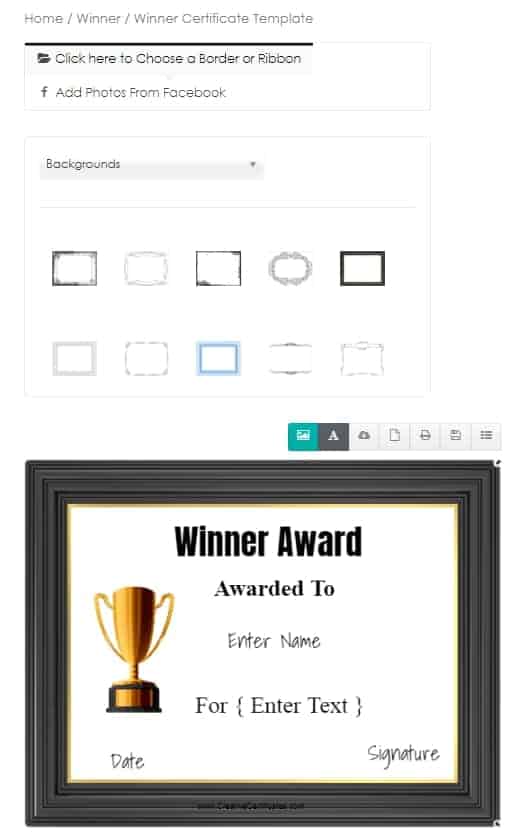 To select clipart, click on "click here to choose a border or ribbon" and then select the image. There is a selection of award ribbons and trophies. Some are more formal and some are less formal. You can drag the ribbons and trophies to any position.
What can these templates be used for?
You are free to use the certificates for personal use. If you put them on a website, you will need to link back to this page.
School – you can use them for competitions at school. We also have award certificates with a school theme. You can give an award for first place, second place, and third place.
Sports – for winning races and other sports events. We also have sports awards for specific sports.
Workplace – running competitions for the most sales, most leads, etc. is a great way to increase revenue by motivating staff. Don't forget to add your logo. To do this, click on the little picture icon to the left of the text icon.
How to Make a First Place Certificate
You can make free printable first-place awards with these templates.
Follow the instructions above.
Change the title to "First Place Certificate" or "1st Place Award" or any title that you want.
Edit the text.
This is a sample of an award certificate you can create, but the possibilities are endless since you can select any frame, trophy or ribbon, font, etc.
If you are creating a competition winner certificate, you might want to include the name of the competition in the title. You can add a logo by clicking on "Add Image". If you don't have access to a color printer at school, then select a black border and don't include a ribbon.
To create a blank certificate, just delete the text. To delete the text, click on the text, and a text box will appear. On the top right-hand corner, there is a little x. Click on it to delete the text.
Please note that the certificate maker can take up to 2 minutes to open depending on your internet connection. There is a large selection of optional borders so it might take some time to load.
You can find other printable awards on this site.
Certificate Wording
Each template has suggested wording but you can use the following examples to change the wording and personalize it to meet your needs.
Contest winner certificate
This certificate has been awarded to [name] for sailing above the competition to become the winner in [competition name] held at [place] on [date].
Date ____________________
Signature ________________
[Contest Name]
Winner
This is to certify that [name] took the winning position during the [contest name] held at [place]
Date ________________________
Signature ____________________
Winner Certificate
This certificate is awarded to [name] for winning the [contest name] that took place at [location] from [date] – [date].
Awarded on _________________________
Signature ___________________________
First Place Award
This certificate has been presented to [name] for taking first place during the [year] [competition name] held at [location].
Date _____________________
Signature _________________
Certificate of Winning Competition
This certificate is presented to [name] in recognition of his/her outstanding effort in [competition name].
Date _____________________
Signature _________________