Free editable certificate templates in various designs. Select a template design and customize it with our free certificate maker. Edit the text and then download and/or print.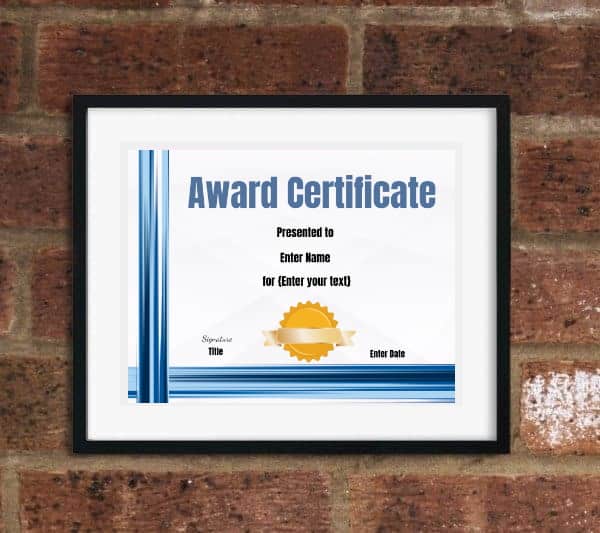 Select a Template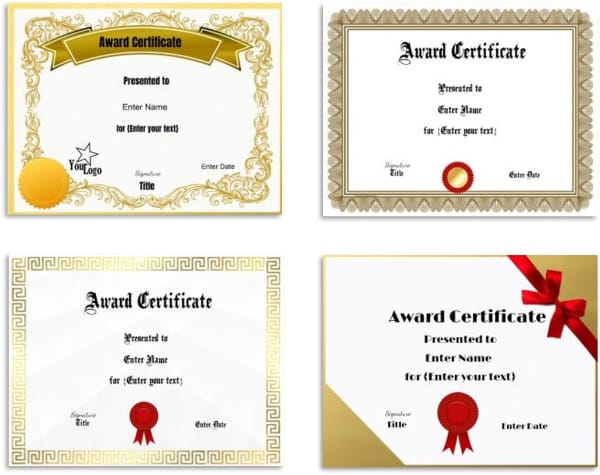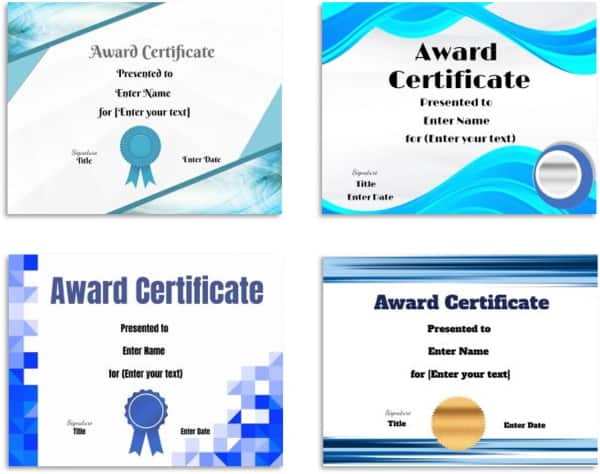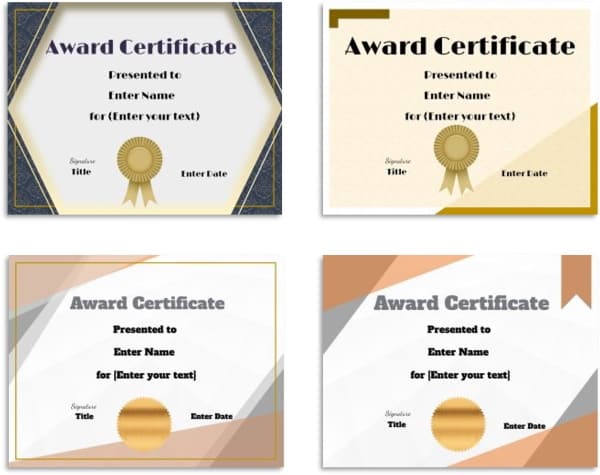 Certificate Templates with a Colored Frame
Select the color of the certificate border:
Didn't find what you were looking for? We also have hundreds of free certificate templates available. They can all be customized with our certificate maker.
With our free certificate maker, it is very easy to create certificate templates. You don't need to download any software and you don't need any experience. Our free online certificate maker will do all the work for you! Each certificate sample can be edited to suit your needs. You can change the border, award ribbon, and text.
How to use the certificate generator
Click on the blue button to open the certificate generator.
On the left-hand side, you will see a long list of award certificate templates. Scroll down to see all the examples.
Select any award template and click on it.
The selected template will appear in the certificate editor.
To fill in certificate details, double-click on each line of text and type your text.
When the fillable certificate is ready, you might want to change the award ribbon. To do that, click on borders and ribbon. Then click on select ribbon.
You can create as many printable certificates as you want!
Your custom certificate is now ready!
How to choose a template?
As you can see, there is a huge selection of certificate templates on this page and it might be difficult to choose. Here are a few considerations to take into account when selecting a certificate design.
Choose by color
If you like a specific color or if your business has a color scheme, then use this option to help you choose by color. If your company logo is blue, then select a certificate design with shades of blue. Don't worry about the color of the award ribbon since you can change that with a click of your mouse.
Choose by design
When you open the award maker, you will see many options to choose from. Some of the certificate borders are formal and others are informal and even fun or childish. If you need a certificate award for a formal event, then choose something more formal. If you want a certificate for kids, then choose something less formal or check out our certificates for kids.
Choose by space available
Since it is an editable certificate template, you can edit all text. However, make sure that you will have enough space to write whatever you want to write. Some certificate examples have very limited space for content. Others have more space available. This shouldn't be an issue unless you have a lot of text. In such a case, you might prefer a blank certificate or one with more space available.
Certificate layout
Each award certificate template has a sample layout. You are not limited to this layout. You can move the text around and you can add additional text.
How to Make a Certificate
If you are not sure how to create a certificate, then see the explanation above. It will guide you step-by-step.
How to create a blank award template
Select the certificate border you would like to use.
Click on the text box.
On the bottom left, you will see a trash can. Click on it to delete the text box.
Instead of deleting the text, you might prefer to use our free certificate borders.
Please note that you cannot put any of these certificates on any website without linking back to this site.