Award Certificate for Kids
The following certificates for kids can be customized with your own text and photo and awarded for good behavior. If you prefer not to add a photo, then check out our behavior certificates without photos. Also, if you need the British version then check out our behaviour awards.
These free printable certificates can be used by parents and teachers to motivate children to behave well by recognizing good behavior and awarding them for it.
All you need to do is find a photo that you would like to add to the certificate and insert your text. Our certificate maker will prepare the award certificate for you free of charge!
There are five different certificate templates for you to select from.
Award Certificates for Kids
Use the following award certificates to award children for good behavior. You can either print the certificates and fill out the details by hand or type the details before you print the certificate. We also offer behavior certificates with photos and a British version for good behaviour.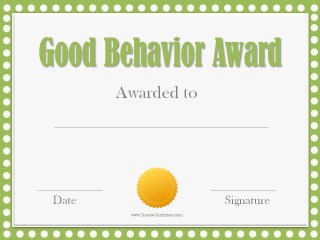 Award Certificates for Kids with or without their photo
Children love to be praised and rewarded. Praising a child for behaving well usually motivates them to keep behaving well and sometimes even improves their behavior. That is the reason that reward charts for kids are so successful in modifying behavior. It is so much easier to remember to reprimand a child for bad behavior than to reward a child for good behavior. Studies have shown that focusing on good behavior is a far more effective method to modify and improve behavior.  Educators claim that for each negative comment made to a child, we should make at least five positive comments to that same child. Once children have improved their behavior we often stop praising them. Some children even start misbehaving again to receive the attention that they received when they misbehaved. Giving them a certificate is a great way to ensure that we stop and praise them and don't forget to acknowledge good behavior. On this site, we have a selection of free printable certificates for good behavior. You can even add your child's photo or the photo of his or her favorite pop star, soccer player, or anyone else they look up to.