A variety of free printable baseball certificates. You can type in the text to customize these certificates. Just type in your text, download, or print and your certificate is ready!
Many more free sports awards on this site.
Free Baseball Certificate Templates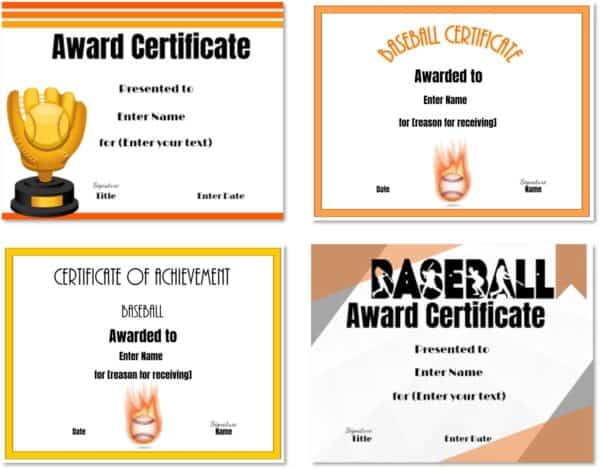 Baseball Award Ideas
End-of-season baseball awards are often awarded to Little Leaguers to motivate them and recognize progress.
Award Ideas for Players on a Little League Baseball Team
Awards could be related to performance or even effort. Coaches often prefer to find a reason to award each participant rather than award one or two kids only. Some kids are not naturally athletic and put a lot of effort into the game even though they don't excel. Their effort should also be acknowledged. With a little bit of effort, you can find an award that acknowledges something that each child excelled at. It will make everyone feel special and motivate them to continue trying next season.
What awards can be given for baseball?
Most Valuable Player (MVP) – why not let the team vote for the MVP (this will also prevent other players feeling like they should have been the recipients)

Best Hitter

Highest Batting Average

Most Improved

Great Attitude

Best Effort

Most Helpful

Speed

Versatile Player

Most Enthusiastic

Most Patient Player

Best Teammate

Team Player

Best Sport

Always Puts the Team First

Most Dedicated Player

Excellent Potential (for players who haven't put any effort into the game but are capable of so much)
Most stolen bases
Runs batted in
Home runs
Triples, doubles or singles
Pitching Awards: most wins, strikeouts, saves, most valuable pitcher
Defense Awards – "Gold Glove Award" for the best defensive player at every position – Catcher, First Base, Second Base, Shortstop, Third Base, Left Field, Center Field, Right Field
What kinds of awards can you give for baseball?
Trophies
Kids (and adults) love to receive trophies. They get to show them off and it makes them feel really proud. Trophies come in hundreds of shapes and sizes. They are not cheap and not everyone has the budget to purchase them. If you do, they are great motivators. Sometimes you can find small trophies for a few dollars each.

Award Certificates
These are free and we have a good selection available on this site. You can print one for each player. We have certificates that are specifically for baseball but you can use our generic certificate templates too. Coaches often choose to award one or two trophies and give all players an award certificate.
Baseball Equipment
You could award baseballs, jerseys, or caps. If you award baseballs you could get all the players in the team to sign it. It will be a great memorabilia. You might find a local sports store which is interested in giving free equipment in return for advertising or sponsorship. This would keep costs down and would definitely be appreciated by participants.
How to Customize the Baseball Printables
You can also add an image or logo to the certificates. For example, if your club has a logo, you can add it to the template before you print. You can also add a photo of the recipient or of the entire team.
To add an image, click on "customize" and then on the image icon. You can drag the image to make it smaller or larger.
Why is baseball important?
It gets kids moving and away from the TV or computer.
It helps kids develop various skills.
Improves physical fitness.
Teaches teamwork.
Teaches kids to follow rules.
It's fun!