Kids love to receive award certificates in recognition of being brave when they are scared or nervous. It could be for a real reason or something that they are afraid of for no apparent reason. Printable bravery certificates award them for being brave and help them overcome their fear. This will give them more confidence the next time they are faced with a similar situation. Rewarding positive behavior is one of the most educational methods to overcome the negative behavior that we are trying to get rid of.
Award Certificates for Being Brave at the Dentist
This certificate of bravery can be used by dentists to award children for being brave. Each award certificate can be customized before you print it. Just click on the certificate of your choice and it will open in PDF. If you do not have a PDF reader then you can get it here.
Once it opens, you can fill out each of the fields and then print. If you prefer not to type the name and details ahead of time, you can print blank bravery certificates and fill them out each time a child visits.
Wording: This is to certify that __ was very brave at the dentist.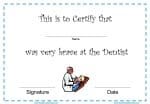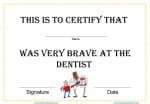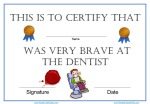 I made these certificates for my kids when I last took them to the dentist. I was very nervous since going to the dentist is something that I do not enjoy (to put it mildly). They were so brave and I wanted them to know how proud I was of them.
If you would prefer to change the wording or if you want a different design, then you can use a certificate template that is totally customizable. For example, nurses administering vaccinations to children can create custom awards for their young patients. This might make their job a little easier or at least get the children to cooperate.