Christmas Gift Certificate Template
Are you having trouble finding a good Christmas gift for your loved ones? Despair no longer. We offer free customizable and printable Christmas gift certificate templates to make Christmas shopping easier. Put an end to the confusion and head-wracking over what to get for your friends and loved ones.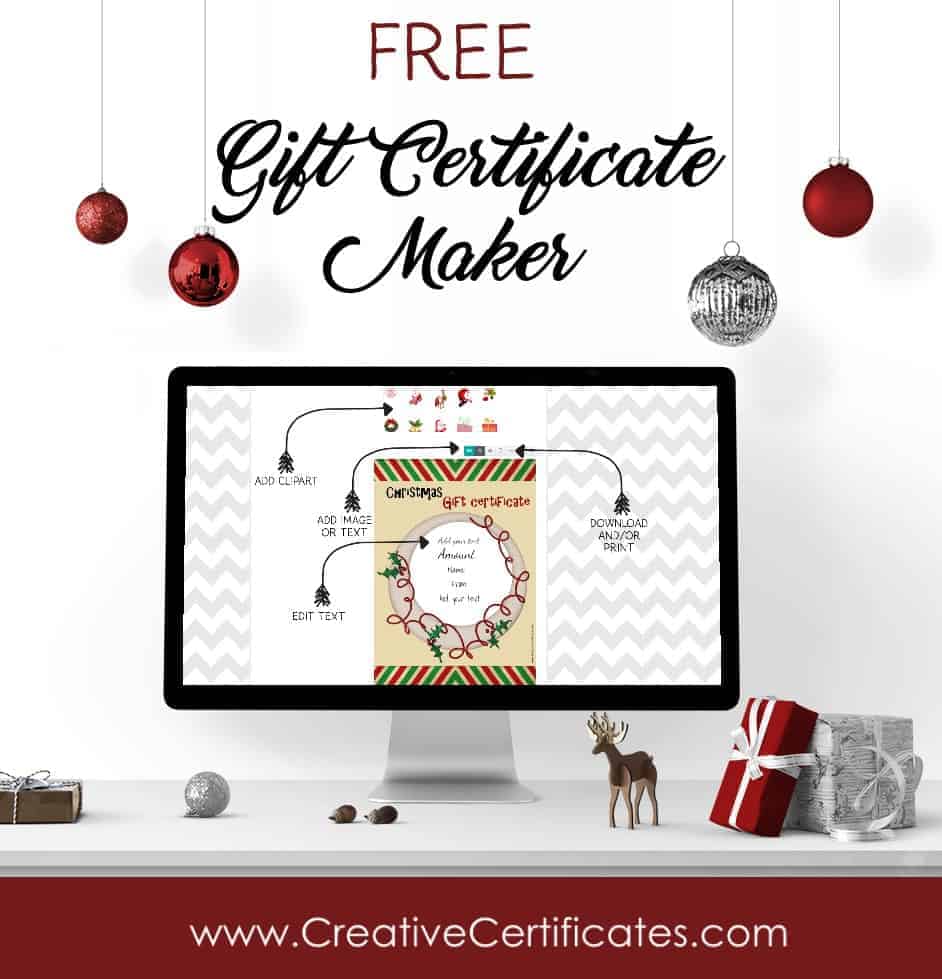 Christmas is a joyous time for all, but one of the challenges that come along with the holiday season is finding suitable gifts for all the people that you love in your life. If you are having trouble coming up with a great gift idea for someone in your life, then you might find that gift certificates can make your life easier.
We offer a selection of free printable Christmas gift certificate templates for the holiday season! You can edit all text, and you can also add a company logo, Christmas clipart, and additional text (such as company name, expiration date, holiday greetings, etc.). We also have a selection of free Christmas borders and other printables such as Christmas Minute to Win it Games. You can also use and customize our generic gift certificate templates. Free download!
Select a Free Printable Christmas Gift Certificate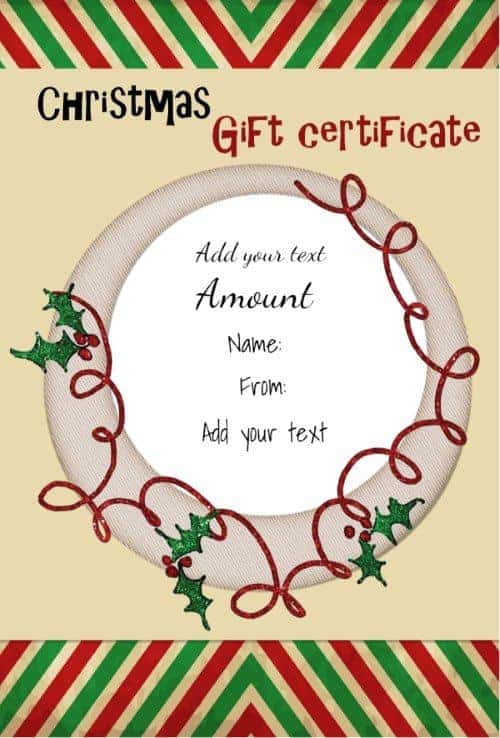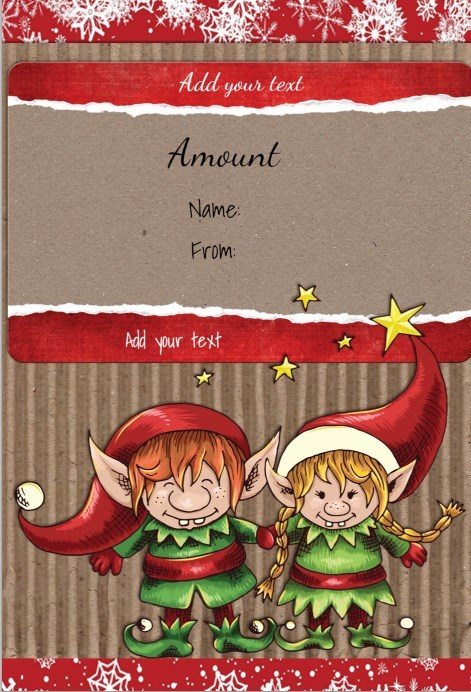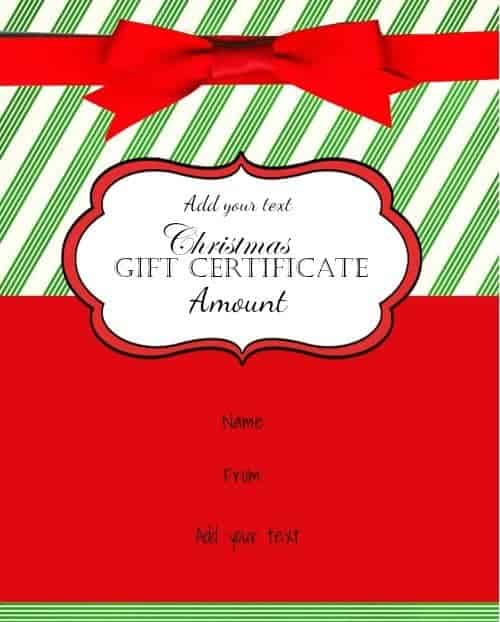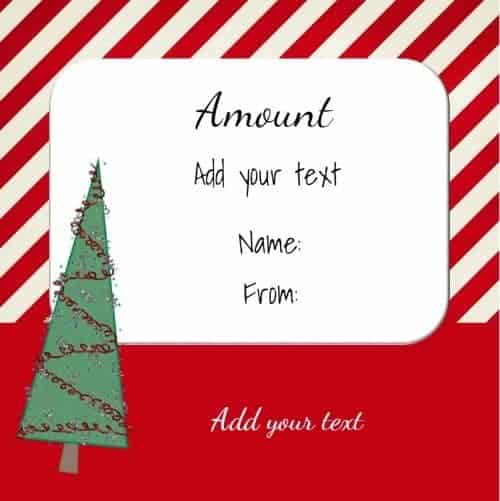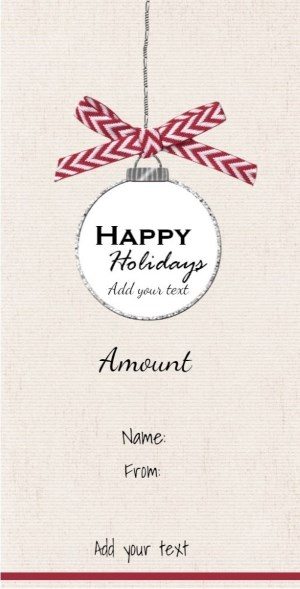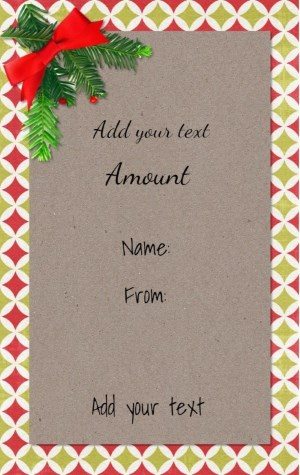 This Christmas gift card printable has a textured background with a Christmas tree with a gift under it.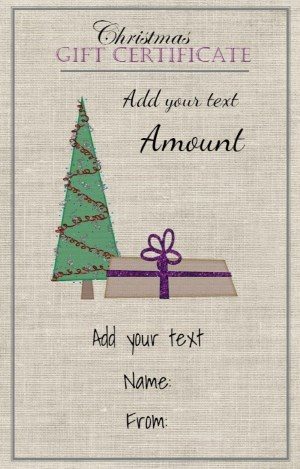 This Christmas gift template has a chalkboard background. You can add text to the background and color it white. The dummy text is already white.
This Christmas present template has a cute dog on it. It's perfect for dog lovers!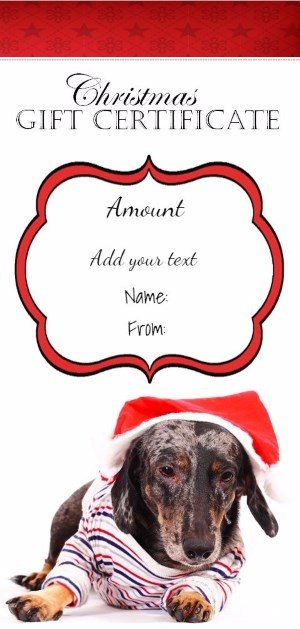 How to Make a Christmas Gift Certificate Free of Charge?
Select a template from the selection above.
Click on the "customize" button to open the Christmas voucher maker.
Click on the text you want to edit and type new text.
Add your company name and company logo.
Download as a PDF or as an image.
Print on cardstock or paper.
Since the text is editable, you can use the Templates for Various Purposes
These free Christmas templates can be used for many different purposes. If you want to make them more unique and professional you can add a photo. For example, if you have a Christmas door décor contest you can add a photo of the winning door and present the winner with a custom award certificate.
Christmas Gift card template
Greeting cards
Christmas certificate template for any achievement during the festive season
A gift certificate from Santa
Benefits of Christmas Gift Certificates
There are many potential benefits of using printable Christmas gift certificates. Here are some of the benefits:
Time Saving
Going from store to store shopping takes a long time. Gift cards can save you hours if not days.
Versatile
One of the main benefits of using a holiday gift certificate template as a gift is that it is very versatile. You can use it for a variety of reasons, such as delivering money or writing a personal note. With our free gift certificate maker, you can get your certificate first and figure out the details later! Since it is totally free to create and print, you have nothing to lose!
Customized
Another great thing about Christmas certificates is that they are personal gifts that you can customize. You can easily put your recipient's name on the gift card and even add a personal note. This lets them know that you truly do care about providing them with a custom gift.
Discreet
If you are like many other people in the country, giving money is often the best option for someone that you don't know how to shop for. Using a Christmas voucher template gives you a discreet way to deliver this gift and make it personal, as well.
Last Minutes Solutions
Gift cards are the perfect solution for last-minute gifts whether you forget someone or never had the time to shop.